Grief Free Resources
SUPPORT GROUPS & MENTAL HEALTH RESOURCES
Grief in Common (griencommon.com) An online community of people who share similar losses
The National Mental Health Consumer's Self-Help Clearinghouse (MHselfhelp.org) An inclusive online resource connecting patients, health care providers, advocates, and policymakers
National Suicide Prevention Hotline: (800) 273-8255 A free, 24/7 service, offering trained counselors who help you if you are feeling suicidal. It can also be accessed by texting TALK to 741-741.
Substance Abuse and Mental Health Services Administration (SAMHSA): (800) 662-4357 A free helpline offering treatment referrals and information in both Spanish and English
THERAPY RESOURCES
Association for Contextual Behavior Science (contextualscience.org) Offers "ACT for the Public," for developing a deeper understanding of ACT, and advice for finding an ACT-trained therapist
Psychology Today: Find a Therapist (psychologytoday.com/us/therapists) A free online resource that find a skilled therapist near you
Online-Therapy.com an online-therapy service that offers weekly live therapy sessions (chat, phone, and/or video sessions) with your personal licensed and certified therapist along with other resources based on cognitive behavioral therapy (CBT) – one of the most commonly used psychotherapeutic approaches for treating mental health problems. (Starting from $31,96/wk)
Related Deals: Get 20% Off Online-Therapy.com
7 Cups Of Tea – an online service with thousands of volunteer listeners stepping up to lend a friendly ear.
GRIEF & BEREAVEMENT RESOURCES
American Foundation for Suicide Prevention (afsp.org)
Suicide Awareness Voices of Education (save.org)
Survivors After Suicide (afsp.org/support_group/survivors-after-suicide-13/)
Survivors of Suicide (survivorsofsuicide.com)
Grief Anonymous (griefanonymous.com)
The National Infertility Association (resolve.org) Support groups for infertility and pregnancy loss
Support After Homicide (supportafterhomicide.ie) A free network of individuals who can help you if you are affected by loss through homicide.
FREE GRIEF & LOSS WORKSHEETS & HANDOUTS
APPS
Moodfit (Android/iphone): a free mental health app whose tools and insight are meant to "shape up" your mood. Moodfit also helps you learn new skills, like gratitude and mindfulness, in just a few minutes per day.
MoodMission (Android/iphone): the app helps people dealing with stress, anxiety, or depression. It recommends "missions" based on how the user is feeling. These missions include:
Emotion-based activities like breathing exercises
Behavior-based activities like learning how to knit, crochet, or sew
Physical activities such as push-ups
Thought-based activities such as learning how to reframe negative thoughts
Headspace (Android/iphone): a meditation app that can help you learn how to live mindfully with a variety of themed sessions on everything from stress and sleep to focus and anxiety.
Breathwrk (iphone): The app presents a collection of breathing exercises based on your goal: falling asleep, feeling relaxed, feeling energized, and alleviating stress.
TED TALKS
We don't "move on" from grief. We move forward with it from writer and podcaster Nora McInerny
The journey through loss and grief from author Jason B. Rosenthal
What makes life worth living in the face of death from author Lucy Kalanithi
PODCASTS
The Mindfulness & Grief Podcast (Apple/Spotify) hosted by author and thanatologist Heather Stang
Grief Out Loud (Apple/Spotify) hosted by Jana DeCristofaro
What's Your Grief Podcast (Apple/Spotify) hosted by Eleanor Haley and Litsa Williams
Grief Encounters (Apple/Spotify) hosted by Venetia Quick and Sasha Hamrogue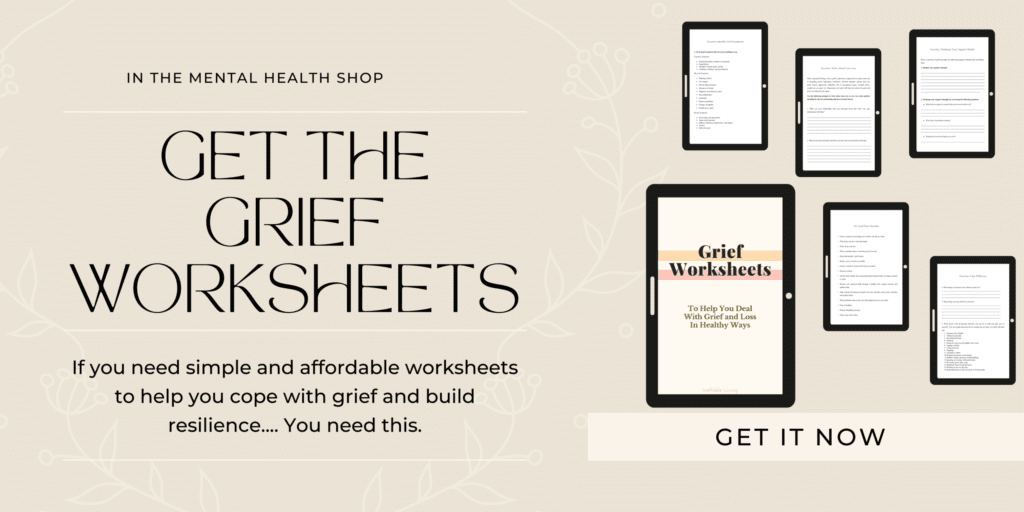 Need More Inspiration? Subscribe To Our Newsletter
Please Consider Sharing It On Facebook, Twitter, and Pinterest!