This post contains some of the best toxic in-laws quotes to help you cope with your in-laws.
Toxic In Laws Quotes
1. "I know others, who have in-laws that are real stinkers, but are protected by partners who keep the situation manageable by setting appropriate limits on their parents' behavior. They're lucky. But vast numbers of others have discovered that their in-laws are a serious source of conflict and friction in their marriage and their life." – Susan Forward
2. "Toxic in-laws are more than just occasionally annoying or difficult. They are more than people who don't meet your dreams of how in-laws should be." – Susan Forward
3. "Toxic in-laws are people who, through various types of assaults on you and your marriage, create genuine chaos. These assaults can be open and aggressive or subtle and subversive. They may range from attempts to control you through guilt-peddling or the use of money, to hurtful rejection of you because of religious or cultural differences. They are usually unapologetic and often unrelenting." – Susan Forward
4. "You're in love. You don't want to bring up anything that could spoil the romantic feelings. You want to be liked and accepted by your future in-laws." – Susan Forward
5. "As the wedding day comes and goes, most people find that toxic in-laws are consistent. If they didn't warm to you while you were dating, and even worked on their son or daughter to break up with you, it's highly unlikely that they'll drop the campaign against you while you wait for them to come around. Wedding cakes and rings are lovely and meaningful symbols, but they're not magic when it comes to solving in-law problems." – Susan Forward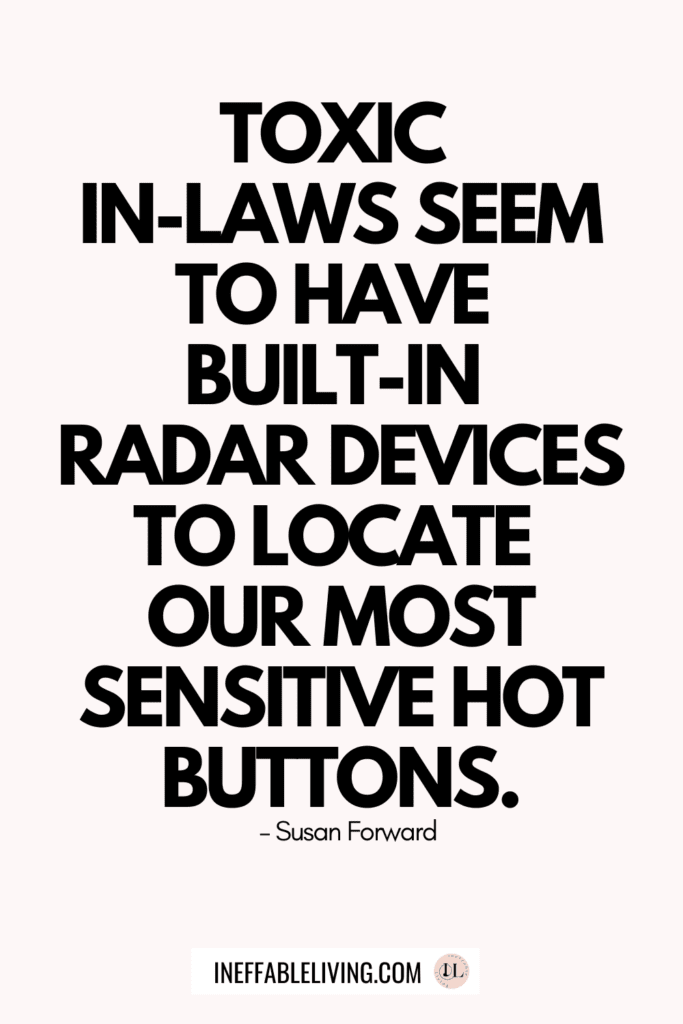 6. "Time and familiarity alone won't open closed hearts and minds. Putting on a brave front while waiting for your natural goodness and charm to win them over is like waiting for a broken dish to mend itself." – Susan Forward
7. "It's possible that even if they warm to the new grandchild, those good feelings will not extend to you. And if they firmly believe they know what's best for you and your partner, you can be sure they will also know what's best for your children. After all, they're parenting pros, and you're an amateur. Don't be surprised to discover that in creating a new life you've also created a new arena for conflict." – Susan Forward
Related: Healing From A Narcissistic Abuse By A Parent – 7 Practical Strategies
8. "If they're extremely possessive of your partner, it will affect you. If they disapprove of you and let your partner (and often you) know it, it affects you. If they invade your life in any of the several ways that we'll explore in the following chapters, you will not escape the fallout. And if all of that wasn't enough, in-laws have a way of reactivating old insecurities and hurts handed down from our own parents because they are authority figures from the same generation." – Susan Forward
9. "Last time I checked, long-distance rates were dropping by the minute, and for just a few hundred dollars you can fly almost anywhere. In some ways, your relationship with your in-laws can be more difficult if you see them infrequently, because weeks and months of emotion are packed into a condensed period of time. Living far from your in-laws may mean that you don't spend much time in their house, or they in yours, but it hardly means that they won't be a regular presence in your life." – Susan Forward
10. "It's been my experience that most people don't bother to step back and study their in-laws' actions because it seems so futile. The reasoning goes: I didn't choose them, I can't divorce them, I can't really hire someone to get rid of them, and we all know you can't change other people—so what's the point?" – Susan Forward
11. "The deliberately hurtful in-laws whose cruel, angry, often abusive behavior is deeply painful and almost always involves active attempts to sabotage your marriage by turning your partner against you." – Susan Forward
Related: Top 25 Tips On How To Set Boundaries In A Toxic Relationship? (+FREE Worksheets PDF)
12. "Obviously, you wouldn't have in-law problems if you'd married into a family of happy, tolerant people with full lives and big hearts. It's equally true, however, that you'd probably be able to successfully manage your differences with even the worst in-laws if your partner were willing to stand up for you and put your well-being above his parents' preferences." – Susan Forward
13. "If you thought you were marrying someone who would always be on your team and follow through on the plans you had made together, seeing that person crumble around your in-laws can be a shock." – Susan Forward
14. "If you feel as though you're in the middle of a powerful tug-of-war for your partner's loyalty, you're right. And if you think you're at a disadvantage in this battle, you're right again. Sometimes, with little more than a word or a glance, your in-laws can call up and activate decades' worth of loyalties, rules, shoulds, and feelings about "the way things are supposed to be." They set in motion patterns that are so familiar to your partner that they feel like gravity—invisible, inevitable, and unalterable." – Susan Forward
15. "Critics are the in-laws who look upon almost every interaction as an opportunity to scrutinize your opinions, feelings, and actions, weigh them against their own, and find you lacking. Whether their aim is to lash out, exert their superiority, or simply mark their territory, they almost reflexively do it with blame, disapproval, and put-downs aimed at letting you know that you just don't measure up to their standards or expectations. When they disagree, they won't let the issue rest. They harp. They pick. They "advise." They nag." – Susan Forward
People-pleasing Worksheets
16. "Toxic in-laws seem to have built-in radar devices to locate our most sensitive hot buttons. It's not our driving or cooking they zero in on: It's us." – Susan Forward
17. "With critical in-laws you'll never do it right, and, yes, you're scarring the poor baby for life. In casting themselves as experts and even saviors, they tell us in actions and words, "I know best. I can do it better. I know how to raise babies—and you don't." – Susan Forward
Related: People Pleaser Quiz (+Top 21 Proven Ways to Stop People Pleasing)
18. "In-laws who criticize by proxy use your partner as their representative to avoid the discomfort of taking you on directly. Instead, they often come in smiling, cloyingly pleasant packages." – Susan Forward
19. "Your partner may not see what you see, or easily feel what you feel, when your in-laws snipe at you. He may seem to spend inordinate amounts of time and energy trying to provide the "context" for their behavior, or "helping you understand" why you shouldn't take offense or defend yourself. And though you could cut it with a butter knife, your partner may not accurately pick up on the tension in the room between you and your in-laws because that's what he or she grew up with and has become used to." – Susan Forward
20. "Scapegoating is criticism taken to the next dimension, in which your in-laws not only find fault with you, but also blame you for everything that goes wrong in your marriage, in your partner's life, and in the lives of your children. They may even assign you the responsibility for discord in the extended family, and a whole rainbow of situations that are clearly beyond your control." – Susan Forward
21. "A lot of in-laws seem stubbornly unable to understand that when their child marries, life will, of necessity, change. Many in-laws will fight tooth and nail to keep the "minor disruption" of your marriage from disturbing their old familiar patterns. And as you've already seen with the couples you've read about, and may have discovered for yourself, your partner may not be willing to rock the boat by changing those patterns, either." – Susan Forward
22. "It's especially difficult to resist being pulled into the engulfing arms of your partner's family if you marry into a different culture, race, or religion. In the effort to be liked and accepted, many people bend over backward to understand and be tolerant of their new in-laws' customs. You may be unaware, at first, of just how much will be asked of you, and in the name of politeness and respect for your in-laws' traditions, you may go along with escalating expectations, only to find yourself growing increasingly resentful." – Susan Forward
23. "It's one thing when your in-laws drop in on you unannounced for the evening because they just "happened to be in the neighborhood." It's quite another when they expect you to accommodate them for long periods of time—weeks or even months, disrupting your routines, imposing their preferences, and demolishing your schedule." – Susan Forward
24. "A marriage affected by controlling in-laws is guaranteed to be a breeding ground for anger, resentment, and, often, contempt. You are filled with resentment at the people who seem to have all the power. They're pulling the strings and won't leave you alone to live your own life. And, like Mara, you may be increasingly incensed at your partner's inability to pull away from an obviously unhealthy situation or even to protect you from it." – Susan Forward
25. "You can reclaim a marriage battered by divided loyalties. In most cases, you can make peace with your in-laws. You certainly can make peace with your partner and with yourself. Positive thinking is wonderful, but positive DOING will genuinely change your life." – Susan Forward
Related: Healthy Boundaries Quiz (+Free Pdf Worksheets)

How To Deal With Toxic In Laws?
Dealing with toxic in-laws can be challenging, but here are some tips that may help:
1. Set Boundaries
Establish clear boundaries and communicate them in a calm and respectful manner. Let your in-laws know what behaviors are not acceptable to you.
2. Don't Engage In Arguments
Avoid getting into arguments with your in-laws. Stay calm and don't take their remarks personally. It's important to remember that their toxic behavior is not a reflection of you.
3. Stay Positive
Try to maintain a positive attitude and focus on the good things in your life. Surround yourself with positive people and activities that bring you joy.
4. Communicate With Your Spouse
Talk to your spouse about how their parents' behavior is affecting you. Work together to find solutions and support each other.
5. Seek Professional Help
If the situation is becoming too overwhelming, consider seeking professional support from a therapist or counselor who can help you cope and find ways to deal with toxic in-laws.
Remember, you have the right to set boundaries and protect your well-being.

References
Portions of this article were adapted from the book Toxic In‑Laws, © 2001 by Susan Forward. All rights reserved.
As a BetterHelp affiliate, we may receive a commission from BetterHelp, at zero cost to you, if you click through the link and finalize a purchase.