Addiction Recovery, ADHD, Anxiety, Autism, Bipolar, BPD, Depression, Eating Disorders, Grief, Mental Health, Narcissism, PTSD, Self-Love, Stress
Low-Cost, Effective Cognitive Behavioral Therapy Online (CBT)
The quality of our lives is defined by the quality of our thoughts and emotions. We attract what we think.
Positive thoughts can improve your life significantly. It can boost your confidence, help you connect with others easily and enjoy yourself.
Negative thoughts can harm your self-esteem. It can cause anxiety, fear, and even lead to depression. A lot of the mental issues we struggle with are rooted in negative thinking. This is where CBT comes into play.
This article contains affiliate links. That means, if you click through and make a purchase using an affiliate link, I will earn a small compensation at no extra cost to you.
What Is cognitive behavioral therapy (CBT)?
CBT is one of the most popular kinds of therapy that targets our negative ways of thinking which are distorting our attitudes towards ourselves and the world around us, and corrects them to help us become emotionally and mentally balanced.
What can CBT help with?
Cognitive behavioral therapy (CBT) has been demonstrated to be effective for a range of problems including anxiety (including social anxiety and OCD), depression, alcohol and drug use problems and other addictions, marital problems, eating disorders, body image problems, and severe mental illness.
Looking for effective, affordable online therapy that can help you?
Online-Therapy.com is a online-therapy service that offers weekly live therapy sessions (chat, phone, and/or video sessions) with your personal licensed and certified therapist along with other resources based on cognitive behavioral therapy (CBT) – one of the most commonly used psychotherapeutic approaches for treating mental health problems.
Related Deals: Get 20% Off Online-Therapy.com
How CBT Can Help?
1. It can solve a specific problem
CBT is a versatile approach that allows us to address a wide range of issues. By identifying the unrealistic thought or behavior, you can correct it and solve the problem.
2. It is goal-oriented
Being a goal-oriented therapy is an advantage because it clarifies the purpose of the therapy. The therapist and the individual are both in agreement about what they want to achieve.
3. It deals with your current problems
CBT deals with present-day problems. It addresses thoughts and behavioral patterns that are currently causing issues to the individual. It doesn't analyze their childhood or dig deeper into their past which makes it the least time-consuming of all kinds of therapy.
You can start to see positive results quicker because CBT help you deal with your current problem.
4. It is faster than other forms of therapy
Because it is goal-oriented and deals with your current problems, CBT is a time-limited approach.
5. It will make you more positive
Dr. Aaron Beck, the founding father of CBT, identified three major kinds of automatic thoughts:
(1) negative ideas about the self;
(2) negative beliefs about the world; and
(3) negative views of the future.
CBT help people overcome this negative mindset and encourage them to adopt more positive ways of thinking and behaving.
Through CBT you will learn to stop jumping to conclusions, stop seeing things as purely all-good or all-bad, stop comparing yourself to others or beating yourself up for mistakes, along with many other different kinds of negative thinking.
This makes CBT a simple and effective solution that can alleviate your psychological distress and help you cope better with your problems.
Related Deals: Get 20% Off Online-Therapy.com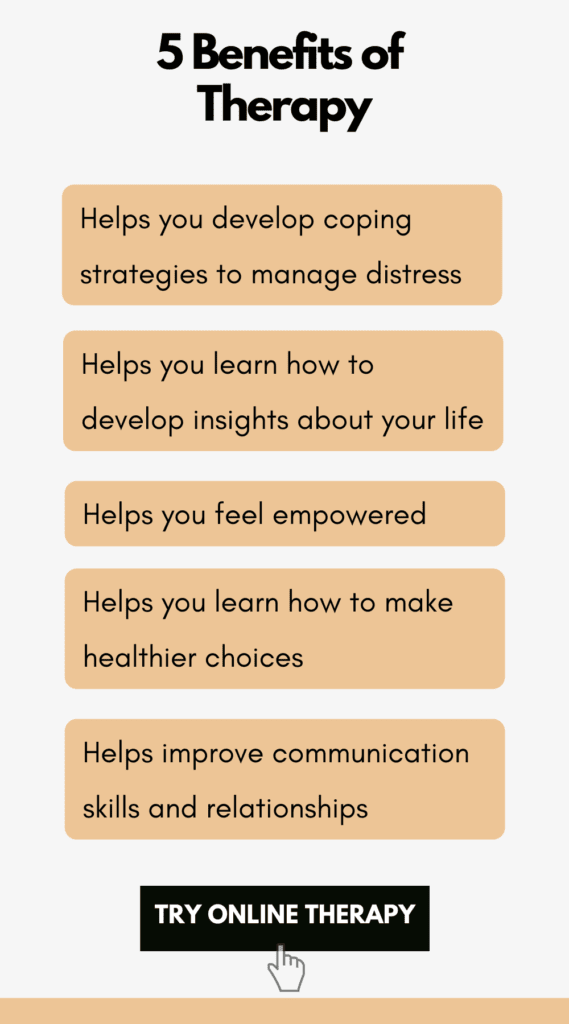 Is CBT Right For You?
Before trying Cognitive-Behavioral Therapy (CBT), ask yourself whether or not it is right for you. You can ask your therapist about which therapy approach is suitable for you, or do some research and try to find out for yourself. To help you with that, ask yourself the following questions:
1. What is my diagnosis?
Each mental illness responds differently to each king of therapy approach. Knowing your diagnosis will help you decide which approach is best for you.
Most mental illnesses are determined by the level of the distress they cause to the individual, how significant the impairment in the person's mental and emotional functioning is, and whether it makes the individual a danger to themselves or others.
If you don't have a diagnosis and feel that you don't have a serious mental illness, but rather personal issues you want to alleviate, then CBT is the best therapy approach for you.
2. Are my problems caused by my thoughts?
CBT is specially designed to address problems caused by the individual's automatic thoughts. It helps you control and reframe your mindset. So if your problems aren't rooted in your thoughts but rather your environment or other things that are out of your control, then CBT might not be right for you.
3. Do I have a specific, clear problem to solve?
CBT is a goal-oriented therapy. This is why you need to start with a specific problem that you want to work on resolving.
These goals could be to quit smoking, get over a bad breakup, alleviate PTSD, etc.
If you're generally unhappy or dissatisfied with your life and can't think of a particular reason why (i.e., no past trauma, no abuse, no significant failures), CBT might not help.
Virtual Cognitive Behavioral Therapy:
Online-Therapy.com Is More Than Talk Therapy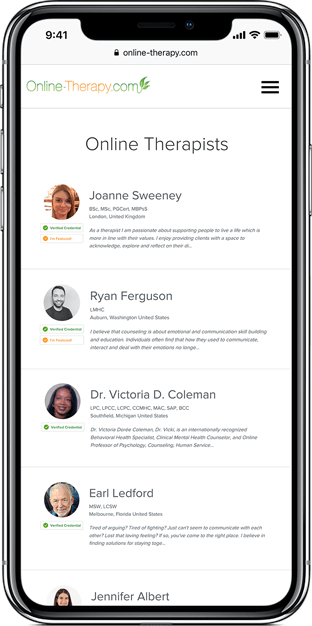 Online-Therapy.com is an online-therapy service that offers weekly live therapy sessions (chat, phone, and/or video sessions) with your personal licensed and certified therapist along with other resources based on cognitive behavioral therapy (CBT).
A personal therapist will guide through the sections (8 easy-to-follow sections), worksheets (25 worksheets), messaging, and live sessions (video, voice only or text chat). You can do this from wherever you are in the world.
How Does Online Cognitive Behavior Therapy Work?
An online talk therapy is when you chat with a licensed therapist via video or text to discuss your thoughts and feelings.
Online-therapy.com is more than that.
First of all, it includes a series of activities that you do in order to help reprogram your mind and change your limiting beliefs.
The idea being that if you can change your thoughts, your behaviors and ultimately, your mood will change.Secondly, you do everything at your own pace. Online-therapy.com offers 8 easy-to-follow sections and worksheets (25 worksheets) that you can complete at your own pace any time of the day – no timeline, no specific hours of availability.
Finally, you're never actually alone. A licensed therapist will be working with you throughout the entire process. After you complete sections and worksheets, your therapist will read your answers and leave comments. You can email your therapist whenever you need to and schedule a weekly live chat.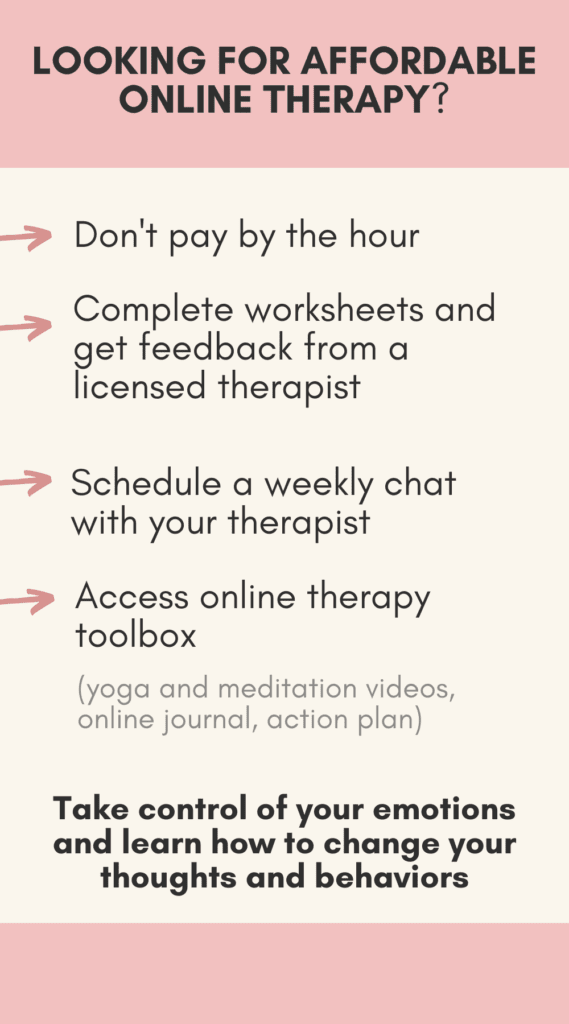 The Online Therapy Toolbox
In addition to the sections and worksheets, the cognitive behavior therapy process involves other tools to help you make some lifestyle changes.
Yoga and meditation videos that you can access at any time.
Online journal with prompts and specific questions you can answer every day to get you thinking about how you wanted to feel and what goals you want to accomplish each day.
Action plan where you can schedule specific activities to help you get better.
How long will it take?
Online-therapy.com offers a course in cognitive behavior therapy.
It is not something that someone else does for you. It is a skill that you learn and continue to use in the future.
How long you need to learn that skill is up to you.
Sessions are billed monthly but you can stop at any time and continue to have access to your toolbox (yoga and meditation videos, journal entries, and action plan) even after the subscription ends.
How Much Does Online Therapy Cost?
Online-Therapy.com include a free plan where you can have access to sections and worksheets along with the toolbox (Yoga and meditation videos, journal, activity plan, and tests) that you can do on your own.
To work with a therapist, there are three subscription plans that start at $31.96 weekly.
With the 20 percent discount, your therapy sessions would cost you much less than traditional therapy that usually range from $70 per hour to at least $250 per hour.
Is It Legit?
Online-Therapy.com is a completely legitimate company, started in 2009. There are thousands of positive online reviews that you can check.
The company's team of therapists include professional counselors, board-certified psychiatrists, and licensed clinical psychologists with degrees from highly-esteemed institutions.
You can maintain your anonymity.
If your counselor doesn't feel like a good fit, you can change therapists at any time.
You have the ability to cancel your membership at any time and you are protected by the 14-day money-back guarantee.
What People Are Saying About Online-Therapy.com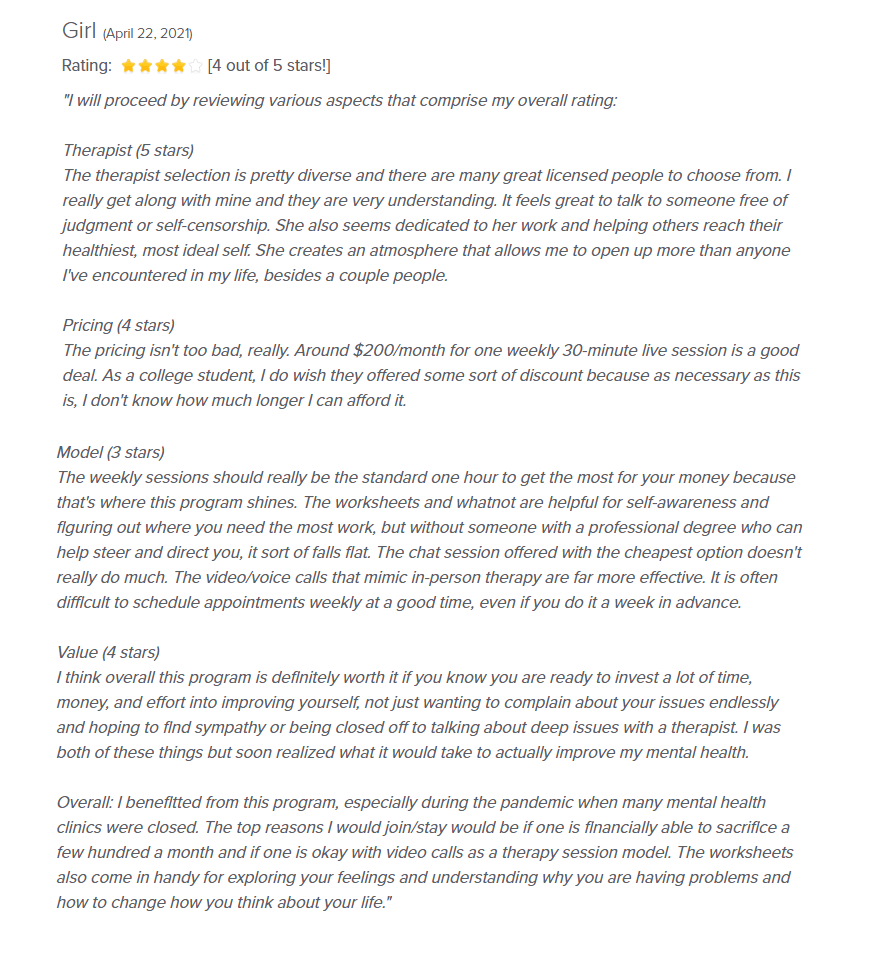 Read More Reviews Here
Does Online-Therapy.com Offer a Therapy App?
They do! You can download it at both the iTunes/Apple and the Google Play stores.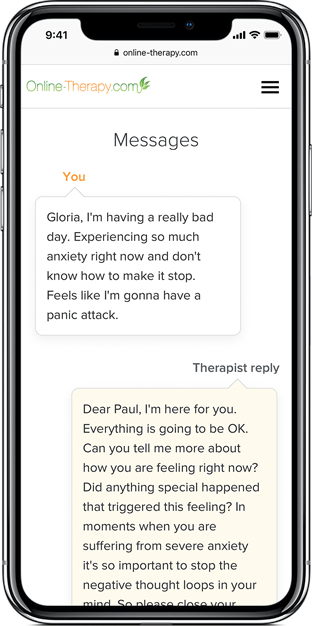 Your turn…
We love hearing from you. Please share your thoughts with us in the comments below.
See a typo or inaccuracy? Please contact us so we can fix it!
Like This Post? Please Consider Sharing It On Facebook, Twitter, and Pinterest!