What Are The Benefits Of Online Therapy?
Do you find it difficult to get a face-to-face therapy appointment?
Do you find in-person therapy expensive?
Do you feel it's impossible to squeeze in a visit in your already hectic schedule?
Do you tend to feel lonely and unsupported inbetween sessions?
Do you seem to forget all the things your therapist told you since that last visit?
If you answered yes to most of these questions, then online therapy would be the right choice for you. Here's why:
What Is Online Therapy?
Online therapy has been around for a while now.
But lockdowns have pushed therapists to go digital and many people found that virtual support invaluable.
Whether you're struggling from anxiety, depression, or are seeking to increase your self-awareness, online therapy allows you to access the same coping mechanisms that you would in an in-person session.
A growing number of studies has shown the effectiveness of internet-based therapy. (*)
Online therapy is not only as effective as in-person therapy, (*) it also has a lot of additional benefits.
What Are The Benefits Of Online Therapy?
1. Accessibility
This is especially convenient if you live in a rural location, or you can't drive to your therapist office, or you have a physical disability, or simply you find it difficult to leave your home because of your mental health status.
Online therapy helps you overcome geographical barriers by providing support at the click of a button from the comfort of your home
2. Time
Finding the time to see a therapist during the day can be difficult for many people.
Most of us work full time and are always racing against the clock.
Online therapy fits around your own schedule so you can chat whenever it suits you – whether that's early in the morning when it's peaceful and before everyone wakes up, or at the end of your day.
3. Privacy
Many people are uncomfortable about the idea of bumping into someone they know in the waiting room or being seen walking into a therapist office.
Online therapy offers you not only the privacy but also security you need through security measures, such as high-grade encryption services, virus protection, and password protection.
4. Cost
Online therapy can be much more affordable (average $60) than traditional in-person therapy (average $150). (*)
There are also different plans and options that can make online therapy even more affordable.
5. Greater insights
Online therapy can allow your therapist more insight into your home environment.
Anastasia Piatakhina Giré, author of Unlocked: Online Therapy Stories, says, "a curious and skilled online therapist can make the most of the unexpected gifts that 'screen' therapy offers – be it the intrusion of a pet, a parent breaking into the session or a client taking her therapist for a trip outside."
Is Online Therapy As Effective As In-Person Therapy?
In 2018, a meta-analysis compared the effectiveness of online and in-person therapy for depression and several types of anxiety, such as social anxiety.
The study looked at a particular type of therapy called Cognitive Behavioral Therapy (CBT), which is an evidence-based therapy approach that helps patients change their negative emotions by changing their thoughts and behavior.
The study found that there is no difference in patient satisfaction whether therapy is online or in-person and for either method, the outcomes are better the more sessions the person attends. (source)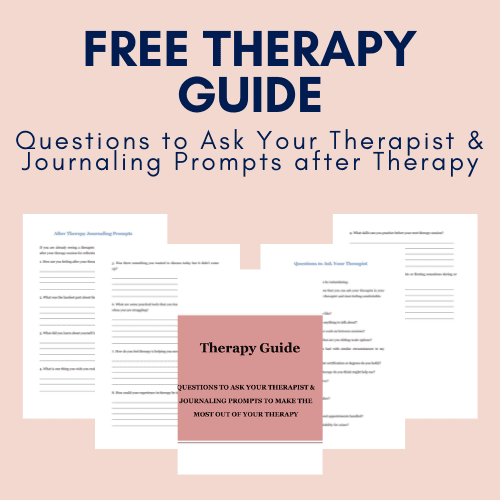 Adult Therapy Online
Online-Therapy.com Is More Than Talk Therapy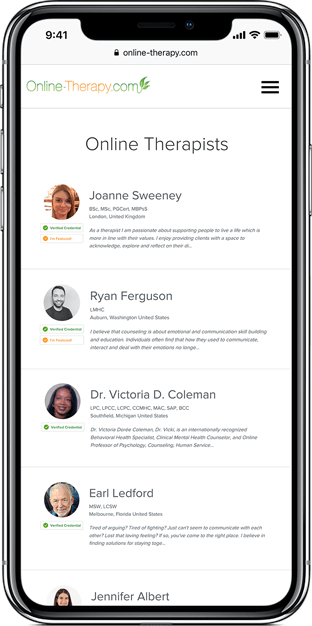 Online-Therapy.com is an online-therapy service that offers weekly live therapy sessions (chat, phone, and/or video sessions) with your personal licensed and certified therapist along with other resources based on cognitive behavioral therapy (CBT).

A personal therapist will guide through the sections (8 easy-to-follow sections), worksheets (25 worksheets), messaging, and live sessions (video, voice only or text chat). You can do this from wherever you are in the world.
How Much Does Online Therapy Cost?
To work with a therapist, there are four subscription plans that start at $40 weekly.
Plans and Pricing
The BASIC plan ($40/wk – $160 per month) Includes:
Unlimited messaging with your therapist
Daily replies from your therapist Monday through Friday.
CBT toolbox access (8 online sections, 25 worksheets, yoga and meditation videos, journals, activity plans, and self-tests.)
The STANDARD plan ($64/wk – $256 per month) Includes:
Everything in the BASIC plan
Weekly 45 min live sessions with your therapist (video, voice, or text)
The PREMIUM plan ($88/wk – roughly about $350 per month) Includes:
Everything in the STANDARD plan
Guaranteed express replies from your therapist
2 Weekly live 45 min sessions with your therapist instead of one
Couple Therapy plan ($88/wk – roughly about $350 per month) Includes:
Couples Live Sessions + Unlimited Couples Messaging + Individual Therapy
Online-Therapy.com accepts standard credit/debit cards and PayPal.
You can upgrade or cancel your subscription any time with the click of a button.
With the 20 percent discount, your therapy sessions would cost you much less than traditional therapy that usually range from $100 per hour to at least $200 per hour. (source)
Price comparison between in-person and online therapy
Online Therapy
In-Person Therapy
$40 to $88 per week
($160 to $350 per month)
$100 to $200 per session
($400 to $800 per month)
What Are The Benefits?
A highly qualified therapist with a wide range of credentials is there for you whenever needed, Monday-Friday.
There is no hassle with traveling or keeping an appointment. All you need is a computer, tablet or mobile phone.
You pay much less than you would with a face-to-face therapist.
There is no risk of exposing yourself face-to-face in the therapist's office or waiting room.
Instant access to your online therapy program, including sections, worksheets, diary, activity plan and more.
Therapists' Qualifications
Online-Therapy.com has 74 therapists listed on its website as working for the company. All of its therapists are licensed psychologists, professional counselors, mental health counselors, marriage and family therapists, or clinical social workers with a minimum of three years of experience or 2000 clinical hours.
What Issues Can Online-Therapy.com Help You With?
Online-Therapy.com offers services that can help treat the following mental health conditions:
Agoraphobia
Anger
Anxiety
Autism
Bipolar Disorder
Borderline Personality Disorder (BPD)
Career issues
Chronic pain
Depression
Domestic violence
Eating & food disorders
Generalized Anxiety Disorder (GAD)
Health anxiety
Insomnia
LGBTQ+ issues
Obsessive-compulsive disorder (OCD)
Panic attacks
Parenting
Post-traumatic stress disorder PTSD
Relationship issues
Self-esteem
Social anxiety
Speech anxiety
Stress
Weight loss
Is Online-Therapy.com Effective?
An online talk therapy is when you chat with a licensed therapist via video or text to discuss your thoughts and feelings.
Online-therapy.com is more than that.
First of all, it includes a series of activities that you do in order to help reprogram your mind and change your limiting beliefs.
The idea being that if you can change your thoughts, your behaviors, and ultimately, your mood will change.
Secondly, you do everything at your own pace.
Online-therapy.com offers 8 easy-to-follow sections and worksheets (25 worksheets) that you can complete at your own pace any time of the day – no timeline, no specific hours of availability.
Finally, you're never actually alone.
A licensed therapist will be working with you throughout the entire process. After you complete sections and worksheets, your therapist will read your answers and leave comments. You can email your therapist whenever you need to and schedule a weekly live chat.
Online-Therapy.com Review: What People Are Saying?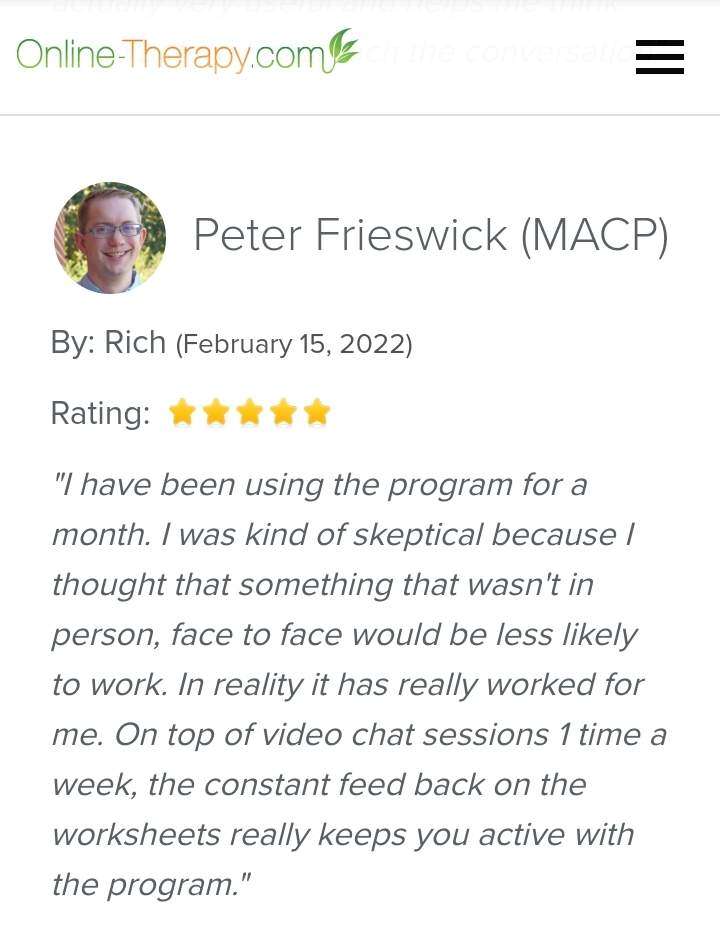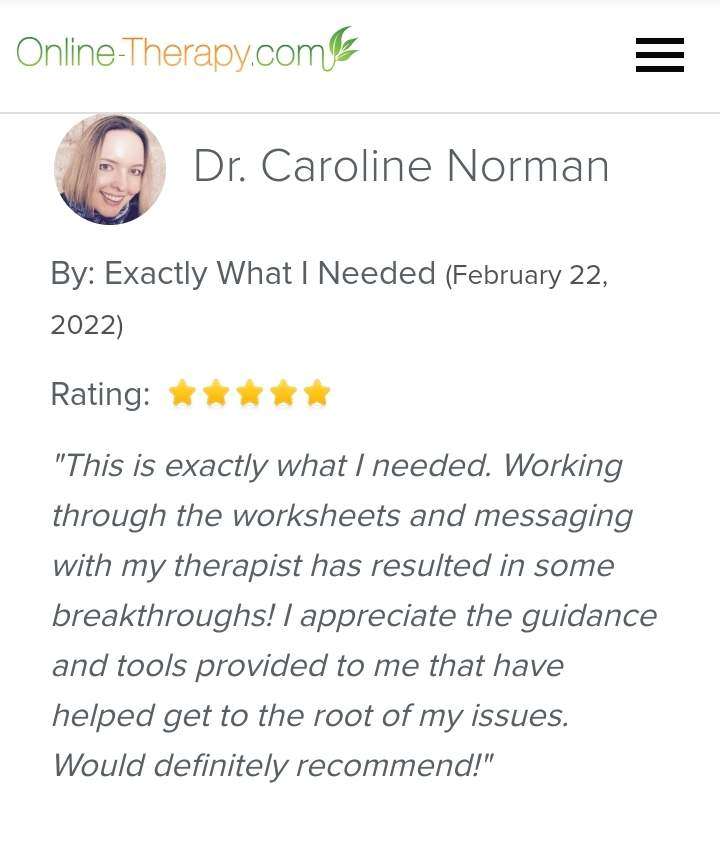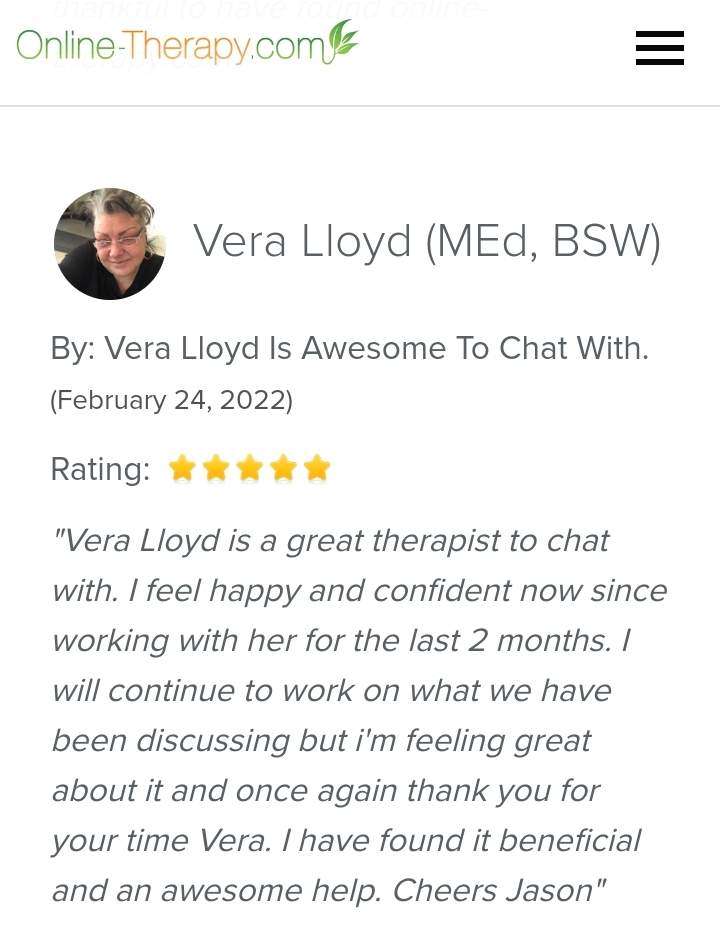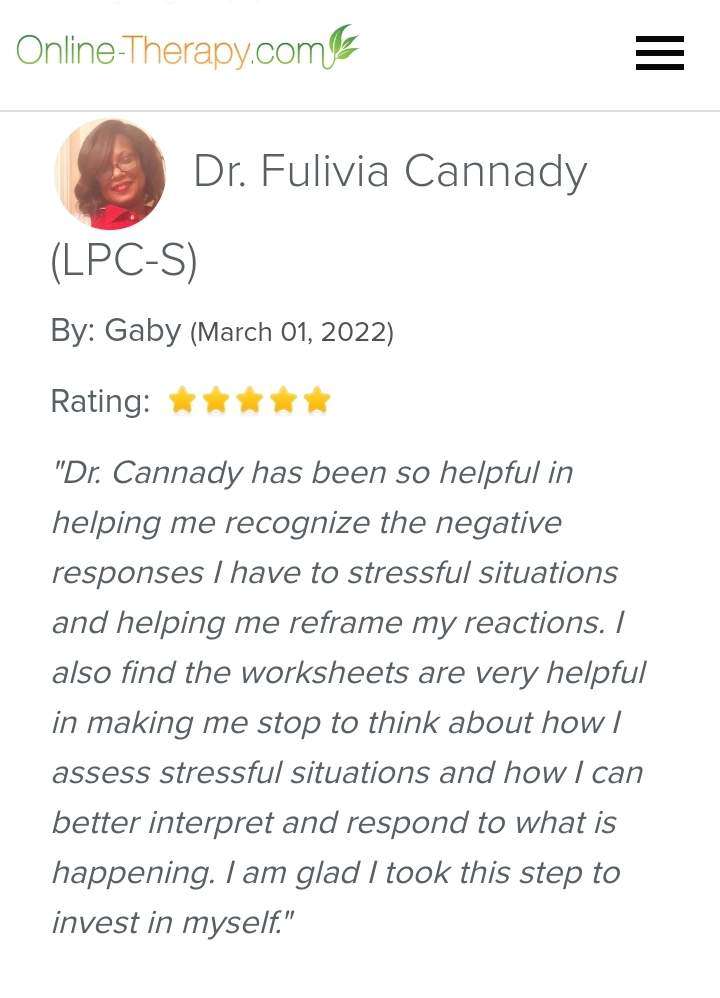 The Online Therapy Toolbox
In addition to the sections and worksheets, the cognitive behavior therapy process involves other tools to help you make some lifestyle changes.
Yoga and meditation videos that you can access at any time.
Online journal with prompts and specific questions you can answer every day to get you thinking about how you wanted to feel and what goals you want to accomplish each day.
Action plan where you can schedule specific activities to help you get better.

How long will it take?
Online-therapy.com offers a course in cognitive behavior therapy.
It is not something that someone else does for you. It is a skill that you learn and continue to use in the future.
How long you need to learn that skill is up to you.
Sessions are billed monthly but you can stop at any time and continue to have access to your toolbox (yoga and meditation videos, journal entries, and action plan) even after the subscription ends.
Is It Legit?
Online-Therapy.com is a completely legitimate company, started in 2009. There are thousands of positive online reviews that you can check.
The company's team of therapists include professional counselors, board-certified psychiatrists, and licensed clinical psychologists with degrees from highly-esteemed institutions.
You can maintain your anonymity.
If your counselor doesn't feel like a good fit, you can change therapists at any time.
You have the ability to cancel your membership at any time and you are protected by the 14-day money-back guarantee.
Does Online-Therapy.com Offer a Therapy App?
They do! You can download it at both the iTunes/Apple and the Google Play stores.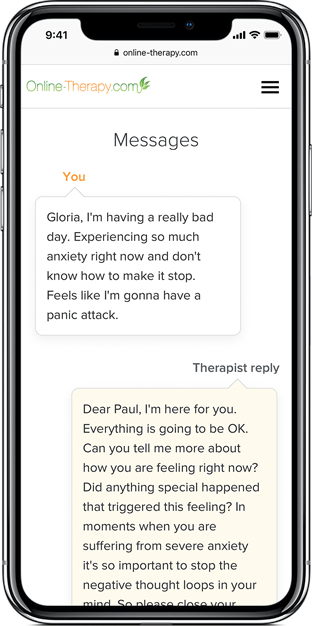 Privacy Policies
Online-Therapy.com is HIPAA compliant and uses layers of encryption to protect client data stored on the site.
All messages between clients and therapists are encrypted with end-to-end 256-bit encryption to keep your information safe.
To obtain your medical records, go to your dashboard and click on "Privacy" and then "Download My Data" from "Download your information."
What Is cognitive behavioral therapy (CBT)?
CBT is one of the most popular kinds of therapy that targets our negative ways of thinking which are distorting our attitudes towards ourselves and the world around us, and corrects them to help us become emotionally and mentally balanced. (source)
Why cognitive behavioral therapy?
The quality of our lives is defined by the quality of our thoughts and emotions. We attract what we think.
Positive thoughts can improve your life significantly. It can boost your confidence, help you connect with others easily and enjoy yourself.
Negative thoughts can harm your self-esteem. It can cause anxiety, fear, and even lead to depression. A lot of the mental issues we struggle with are rooted in negative thinking.
This is where CBT comes into play.
How CBT Can Help?
1. It can solve a specific problem
CBT is a versatile approach that allows us to address a wide range of issues. By identifying the unrealistic thought or behavior, you can correct it and solve the problem.
2. It is goal-oriented
Being a goal-oriented therapy is an advantage because it clarifies the purpose of the therapy. The therapist and the individual are both in agreement about what they want to achieve.
3. It deals with your current problems
CBT deals with present-day problems. It addresses thoughts and behavioral patterns that are currently causing issues to the individual. It doesn't analyze their childhood or dig deeper into their past which makes it the least time-consuming of all kinds of therapy.
You can start to see positive results quicker because CBT help you deal with your current problem.
4. It is faster than other forms of therapy
Because it is goal-oriented and deals with your current problems, CBT is a time-limited approach.
5. It will make you more positive
Dr. Aaron Beck, the founding father of CBT, identified three major kinds of automatic thoughts:
(1) negative ideas about the self;
(2) negative beliefs about the world; and
(3) negative views of the future.
CBT help people overcome this negative mindset and encourage them to adopt more positive ways of thinking and behaving.
Through CBT you will learn to stop jumping to conclusions, stop seeing things as purely all-good or all-bad, stop comparing yourself to others or beating yourself up for mistakes, along with many other different kinds of negative thinking.
This makes CBT a simple and effective solution that can alleviate your psychological distress and help you cope better with your problems.
Is CBT Right For You?
Before trying Cognitive-Behavioral Therapy (CBT), ask yourself whether or not it is right for you. You can ask your therapist about which therapy approach is suitable for you, or do some research and try to find out for yourself. To help you with that, ask yourself the following questions:
1. What is my diagnosis?
Each mental illness responds differently to each kind of therapy approach. Knowing your diagnosis will help you decide which approach is best for you.
Most mental illnesses are determined by the level of distress they cause to the individual, how significant the impairment in the person's mental and emotional functioning is, and whether it makes the individual a danger to themselves or others.
If you don't have a diagnosis and feel that you don't have a serious mental illness, but rather personal issues you want to alleviate, then CBT is the best therapy approach for you.
2. Are my problems caused by my thoughts?
CBT is specially designed to address problems caused by the individual's automatic thoughts. It helps you control and reframe your mindset. So if your problems aren't rooted in your thoughts but rather your environment or other things that are out of your control, then CBT might not be right for you.
3. Do I have a specific, clear problem to solve?
CBT is a goal-oriented therapy. This is why you need to start with a specific problem that you want to work on resolving.
These goals could be to quit smoking, get over a bad breakup, alleviate PTSD, etc.
If you're generally unhappy or dissatisfied with your life and can't think of a particular reason why (i.e., no past trauma, no abuse, no significant failures), CBT might not help.
Your turn…
We love hearing from you. Please share your thoughts with us in the comments below.
See a typo or inaccuracy? Please contact us so we can fix it!
Like This Post? Please Consider Sharing It On Facebook, Twitter, and Pinterest!