How to Have an Intimate Conversation with Your Spouse?
Intimate conversation is perceived by women as an expression of love and care. It's one of the most vital emotional needs women have that needs to be fulfilled.
Sadly, most men fail to understand how important it is to have intimate conversations with their wives.
While women enjoy conversations for their own sake,
men, on the other hand, consider a conversation as a means to an end. During the dating stage, they had long, intimate conversations with their dates simply to know them better.
Once married, they stop seeing the purpose in continuing these intimate conversations.
Intimate conversations trigger in women feelings of love for their husbands. This is why engaging regularly in these conversations is important to strengthen a marriage.
Below are 4 enemies of intimate conversation to avoid and 4 friends of intimate conversation to follow to ensure having an effective conversation that will get you closer and grow your love for each other.
Ready? Let's get started!
The Enemies of Intimate Conversation
Enemy #1: Making Demands
It's important to ask for what you need from your spouse.
However, when requests turn into demands, they become ineffective and might lead to feelings of resentment from your spouse.
In fact, by making demands, you're telling your spouse that you don't really care about how he or she is feeling. You give him or her no chance to refuse.
Even if you feel entitled, demands aren't likely going to get you what you want, need, or even deserve.
Enemy #2: Being Disrespectful.
A sure way to end an intimate conversation is to say or do something that can be interpreted as disrespectful. Dismissing your spouse's opinion or rolling your eyes can be enough to end what could've been an enjoyable conversation.
Avoiding disrespect doesn't mean that you must agree with everything your spouse does or says. Conflicts are inevitable in marriage, but the way you disagree shouldn't be offensive.
Disrespect prevents you from finding common ground and might degenerates into a fight.
Enemy #3: Expressing Anger
While demands and showing disrespect aren't intended to be hurtful, expressions of anger, on the other hand, are always intended to be hurtful. Angry outbursts are destructive in any area of your life, but especially in marriage.
This is why it's best to take time off when you're feeling angry and cool down before trying to discuss the matter any further.
Enemy #4: Dwelling on Mistakes, Past or Present
Mistakes are unavoidable in marriage and in life, in general. It's common for spouses to dwell on each other's mistakes and blame each other for their problems.
This can only drive you away emotionally and even physically.
At the same time, this doesn't mean that you shouldn't point out to your spouse something offensive he has done to you.
In fact, it's the best way to solve a problem and help each other meet your vital emotional needs.
However, dwelling on that mistake and bringing it up, again and again, destroys intimate conversation.
The Friends of Intimate Conversation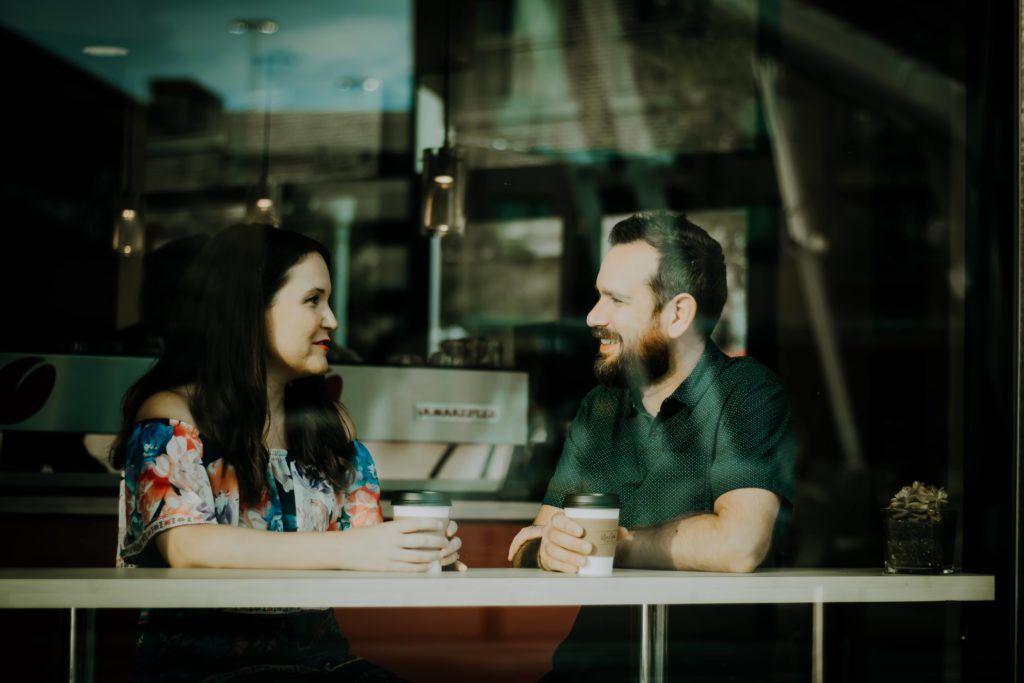 Friend #1: Conversing to Inform and Understand
Conversation is one of the best ways to bring the couple together and create emotional bonding.
The more you talk about each other and support each other, the more intimate your conversation becomes.
When your spouse feels understood and accepted, he or she is more likely to open up to you and feel positive towards you.
Keep each other informed of your personal feelings, interests, and activities. Answer your spouse's questions honestly and volunteer personal information.
Friend #2: Developing Interest in Each Other's Favorite Topics of Conversation
Even the most introverted people become talkative when discussing their favorite topics of conversation.
If your spouse is the quite type, try showing interest in his favorite topic to encourage him or her to talk more and engage in intimate conversation.
Friend #3: Balancing the Conversation
A balanced conversation is about both giving and receiving information, it's important to talk just as it is important to be an active listener.
Some spouses would ruin balance with interrupting each other, especially when one spouse is somewhat introverted and the other spouse is socially outgoing.
If your spouse needs a few seconds before beginning a thought, allow him or her whatever time he or she might need and wait until he or she finishes his or her thought before commenting on it.
Friend #4: Giving Each Other Undivided Attention
It can be offending to listen to your spouse while watching the TV.
It's especially common for men to break the rule of undivided attention and not pay attention to what their wives are saying. One of the main reasons why undivided attention is lacking in the conversation is that the other friends of intimate conversation are missing.
The spouse might not show much understanding that will encourage the other spouse to inform him or her about his personal feelings and thoughts. They might not be talking about each other favorite topics or topics of mutual interest.
Finally, one spouse might be doing all the talking and leaving the conversation unbalanced.
Related: How To Communicate More Effectively
Having intimate conversation requires practice.
Once you avoid conversation's enemies and follow conversation's friends, you become much closer to your spouse and your conversation becomes more intimate.
I want you. All of you. Your flaws. Your mistakes. Your imperfections. I want you, and only you.
Did I miss anything?
Now I'd like to hear from you.
Which techniques from today's post are you going to try first?
Or maybe I didn't mention one of your favorite techniques.
Either way, let me know by leaving a comment below right now!
Wondering what to read next?
Like This Post? Please Consider Sharing It On Facebook, Twitter, and Pinterest!
The Book: His Needs, Her Needs: Building an Affair-Proof Marriage by Willard F. Jr. Harley