The following are some of the best books about perfectionism to help you embark on your recovery journey.
Disclosure: Some of the links below are affiliate links. This means that, at zero cost to you, I will earn an affiliate commission if you click through the link and finalize a purchase.
What Is Social Anxiety?
Social anxiety is a mental health disorder characterized by overwhelming and persistent feelings of fear or anxiety in social settings.
People with social anxiety may feel self-conscious and have a fear of being judged, negatively evaluated, or rejected by others.
This can make it hard for them to interact with people, make friends, attend social events, or even perform daily activities like going to work or school.
Social anxiety can be debilitating and may impact a person's overall quality of life.
However, with proper treatment and management, people with social anxiety can learn to manage their symptoms and lead fulfilling lives.
Symptoms of Social Anxiety According to DSM-5-TR
According to DSM-5-TR (Diagnostic and Statistical Manual of Mental Disorders, 5th edition, Text Revision), the symptoms of social anxiety disorder (also known as social phobia) may include:
1. Marked and persistent fear or anxiety about one or more social situations in which the individual is exposed to possible scrutiny by others, such as meeting new people, speaking in public, being observed eating or drinking, or being the center of attention.
2. Fear or anxiety that the individual will act in a way or show anxiety symptoms that will be negatively evaluated by others, leading to embarrassment, ridicule, or rejection.
3. The social situations almost always provoke fear or anxiety, are actively avoided or endured with intense fear or anxiety.
4. The fear or anxiety is out of proportion to the actual threat posed by the social situation or to the sociocultural context.
5. The fear, anxiety, or avoidance is persistent, typically lasting for six months or more.
6. The fear, anxiety, or avoidance causes significant distress or impairment in social, occupational, or other areas of functioning.
7. The fear, anxiety, or avoidance is not attributable to the effects of a substance or another medical condition.
8. The fear, anxiety, or avoidance is not better accounted for by another mental disorder.
Best Social Anxiety Books
By Ellen Hendriksen
As someone who lives with social anxiety, Dr. Hendriksen has devoted her career to helping her clients overcome the same obstacles she has. With familiarity, humor, and authority, Dr. Hendriksen takes the reader through the roots of social anxiety and why it endures, how we can rewire our brains through our behavior, and―at long last―exactly how to quiet your Inner Critic, the pesky voice that whispers, "Everyone will judge you." Using her techniques to develop confidence, think through the buzz of anxiety, and feel comfortable in any situation, you can finally be your true, authentic self.
Related: Top 10 Social Withdrawal Signs — & How To Social Isolation? (Hikikomori Syndrome)
By Martin M. Antony PhD, Richard P. Swinson MD
This workbook will help you learn to find your strengths and weaknesses using self-evaluation, explore and examine your fears, create a personalized plan for change, and put your plan into action through gentle and gradual exposure to the very social situations that cause you to feel uneasy. After completing this program, you'll be well-equipped to make connections with the people around you.
Related: Best 9 Tips On How To Stop Avoidance Coping (+FREE Worksheets PDF)
By Alison McKleroy MA LMFT
Essential Strategies for Social Anxiety features:
Exercises for everyone—No matter how your social anxiety manifests, discover powerful ways to overcome it and connect with people in a more comfortable way.
Easy-to-follow advice—Each chapter covers a different approach to dealing with your social anxiety, with step-by-step exercises to get the results you want in your life.
Everyday examples—Get inspired by real-life anecdotes that demonstrate how these techniques have helped other people achieve breakthroughs in dealing with social anxiety.
Related: Best 5 Books About Fear
By Matt Lewis
Using referenced scientific and academic research, the book teaches you how to:
Understand how and why social anxiety and shyness develops.
Learn how living in 'safety mode' can diminish your life.
Create a mindset that will allow you to believe change is possible.
Build the foundations for a calm and peaceful mind.
Avoid mental exhaustion and increase energy.
Effectively handle anxious thoughts and feelings as they arise.
Tame the voice in your head and reduce anxiety in social situations.
Become unstuck and able to take action in situations you would normally avoid, withdraw, or distract yourself from.
Build your confidence step-by-step in both small and large social situations.
Take steps to create a fulfilling and meaningful life.
Related: Journal Prompts For Anxiety (+FREE Anxiety Worksheets)
By Dr Aziz Gazipura PsyD
In this inspiring, breakthrough book, Dr. Aziz will guide you along the path towards greater confidence in yourself. You will discover what is keeping you stuck in shyness and learn exactly what to do in order to break free. You will master dozens of clinically proven techniques that will help you:
* Stop worrying about what others will think of you
* Free yourself from self-doubt and self-criticism
* Identify your strengths and increase your self-esteem
* Overcome your fear of rejection
* Start conversations and meet new people
* Create fulfilling friendships and romantic relationships
Related: Top 10 Practical CBT Exercises For Generalized Anxiety Disorder Relief
By Thomas A. Richards Ph.D
This book contains the handouts accompanying the audio / video series "Overcoming Social Anxiety: Step by Step."
With this book of handouts, you'll learn how to:
• Challenge automatic negative thoughts and beliefs
• Develop rational, helpful thoughts and belief systems
• Calm yourself down in social situations
• Accept yourself for who you are
• Feel empowered and in control of your life
Related: 30 Day Social Anxiety Challenge That Will Help You Feel More Confident
By Jan E. Fleming, Nancy L. Kocovski
With The Mindfulness and Acceptance Workbook for Social Anxiety and Shyness, the authors' acceptance and commitment therapy (ACT) program for overcoming shyness has become available to the public for the first time. This program has been found to be highly effective in research studies for the treatment of social anxiety disorder and related subclinical levels of shyness.
Related: How To Stop Self-Critical Thoughts Using These Top 10 Techniques
By Thomas Smithyman PhD
Packed with proven strategies, personal stories, distilled research, and examples from his clinical practice, Dr. Thomas Smithyman leads you through the maze of dating-based social anxiety and helps you discover the Warm Social World that awaits.
In Dating Without Fear, you will learn how to:
Related: Best 10 Intrusive Thoughts Books
By Tobias J. Atkins
In this book, you'll learn:
The real causes behind your social anxiety & shyness (it's not what you think)
My step-by-step guide for overcoming social anxiety & shyness (follow what I did)
How I learned to stop fearing the opinions and judgments of others
How to let go of perfectionism and always putting yourself down
What I learned from spending over $35,000 on alternative therapies
How to finally start liking and accepting yourself
How to lower anxiety and self-consciousness in minutes, not years
This book provides you with a proven roadmap to overcome social anxiety, explained by someone who has actually gone through the process and found a way out of it.
Related: What Causes Cognitive Distortions? (+Top 10 Common Cognitive Distortions & How To Challenge Them)

How Social Anxiety Books Can Help?
Social anxiety books can be a great resource for those who struggle with social anxiety. Here are some ways in which they can help:
1. Understanding Your Social Anxiety: Books can help you to better understand social anxiety disorder. They will provide detailed information on what social anxiety is, what causes it, and how it affects people.
2. Learning Coping Techniques: Social anxiety books can teach you different coping techniques that can help you manage your anxiety symptoms. You can learn things such as self-talk, breathing exercises and visualization to help you manage your anxiety.
3. Building Confidence: As you read social anxiety books, you will find stories of other people who have struggled with social anxiety and how they were able to overcome it. This can inspire you and give you hope for the future, as well as improve your confidence to face similar challenges.
4. Improving Communication Skills: Many social anxiety books provide practical tips to improve your communication skills. These skills can help you to build better relationships and navigate social situations with more ease.
FREE Social Anxiety Worksheets PDF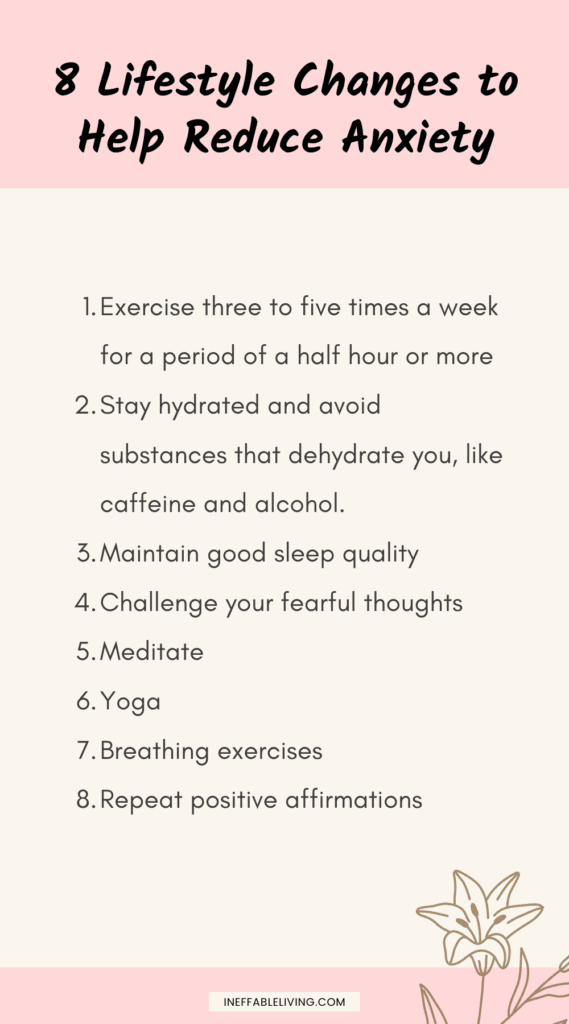 Hadiah is a counselor who is passionate about supporting individuals on their journey towards mental well-being. Hadiah not only writes insightful articles on various mental health topics but also creates engaging and practical mental health worksheets.
As a BetterHelp affiliate, we may receive a commission from BetterHelp, at zero cost to you, if you click through the link and finalize a purchase.