The following are books about setting boundaries to help you become more assertive and enjoy healthier relationships.
Disclosure: Some of the links below are affiliate links. This means that, at zero cost to you, I will earn an affiliate commission if you click through the link and finalize a purchase.
What Are Boundaries?
Boundaries are a way to protect ourselves from threats to our emotional safety.
They communicate to others how we expect to be treated and what we'll tolerate from them.
Healthy emotional boundaries keep us safe from being:
Bullied
Belittled
Blamed for things we didn't do or are not responsible for
Frequently criticized
Shamed
With someone toxic or abusive
Do You Have A Problem With Boundary Setting?
The following are some common signs your life may be negatively affected by a lack of emotional boundaries:
You feel emotionally or physically unsafe.
You struggle to say no and don't want to disappoint people.
You often feel resentful or overwhelmed.
You expect others to know what you need without telling them.
You don't speak up when you're being mistreated.
You don't make time for self-care.
You overschedule yourself.
You do things out of obligation and rarely because you want to.
You don't have a clear idea about who you are, your values, needs, or goals.
You're often tuned in to how other people feel, but are not always aware of how you feel.
You accept blame for tings you didn't do, are not responsible for, or couldn't control.
People take advantage of you.
You loan money to people who don't pay you back.
You feel burnt out at work.
You believe your needs are not as important as others'.
You overshare or get close to people before trust is established.
Books About Setting Boundaries
by Nedra Glover Tawwab
The instant New York Times bestseller helps you end the struggle, speak up for what you need, and experience the freedom of being truly yourself.
Licensed counselor and one of the most influential therapists on Instagram Nedra Glover Tawwab demystifies this complex topic in a relatable and inclusive tone.
Related: Top 25 Tips On How To Set Boundaries In A Toxic Relationship? (+FREE Worksheets PDF)
by Terri Cole
In Boundary Boss, psychotherapist Terri Cole reveals actionable strategies, scripts, and techniques that can help you stop abandoning yourself for the sake of others (without guilt or drama) and get empowered to consciously take control of every aspect of your emotional, spiritual, physical, personal, and professional life.


Read: How To Set Boundaries With Narcissistic Parents?
by Henry Cloud and John Townsend
Dr. Henry Cloud and Dr. John Townsend offer biblically-based answers to these and other tough questions, showing us how to set healthy boundaries with our parents, spouses, children, friends, co-workers, and even ourselves.
by Melissa Urban
Melissa Urban is a six-time New York Times best-selling author who specializes in helping people establish healthy boundaries.
In this book, she shows how boundaries are the key to better mental health, increased energy, and more fulfilling relationships.
Her book includes:
• 130+ scripts you can use to establish boundaries.
• actionable advice to help you communicate your boundaries.
• tips for successfully navigating boundary guilt, pushback, pressure, and oversteps.


Related: Healthy Boundaries Quiz (+Free Pdf Worksheets)
by Lysa TerKeurst
In her book, Lysa shows you how to love people without losing the best of who you are. She will help you:
"Understand the five factors to remember when implementing healthy boundaries.
Determine the appropriate amount of personal and emotional access someone has to you based on how responsible they'll be with that access.
Stop being misled and emotionally paralyzed by wrongly interpreted or weaponized scriptures that perpetuate unhealthy dynamics in difficult relationships.
Overcome the frustrating cycle of ineffective boundary-setting with realistic scripts and practical strategies to help you communicate, keep, and implement healthier patterns.
Be equipped to say goodbye without guilt when a relationship has shifted from difficult to destructive and is no longer sustainable."
And much more.
by Anne Katherine
In Boundaries: Where You End and I Begin, Anne Katherine shows you what healthy boundaries are, how to recognize if your personal boundaries are being violated, and what you can do to protect yourself.
Related: Top 19 Journal Prompts For Boundaries
by Faith G. Harper
In her book, bestselling author Dr. Faith Harper offers a full understanding of issues of boundaries and consent, how we can communicate and listen more effectively, and how to survive and move on from situations where our boundaries are violated.
You'll learn when and how to effectively say "no" (and "yes"), troubleshoot conflict, recognize abuse, and respect your own and others' boundaries like a pro.
WorkBooks About Setting Boundaries
by Nedra Glover Tawwab
This is an accessible, step-by-step resource for setting, communicating, and enforcing healthy boundaries at home, at work, and in life.

Sought-after therapist and relationship expert Nedra Glover Tawwab presents clear explanations and interactive exercises to help you gain insight and then put it into action.
Related: What Do Boundaries Sound Like? + 35 Boundaries Examples
by Sharon Martin
This is an evidence-based workbook that will show you how to set healthy boundaries across all aspects of life—without sacrificing your kindness or compassion for others. You'll learn to define your boundaries and discover why they're so important for your emotional well-being.
by Faith G. Harper
This workbook can be used alone or as a companion to Dr. Faith's book Unfuck Your Boundaries.
In this workbook, you'll learn about how to give and get consent, how to make sure you're stating your boundaries clearly and being understood, how to decide what is a dealbreaker, how to deal with boundaries in group settings, how to identify abuse, and how to hold yourself accountable to respecting the boundaries of others.
Related: Top 35 Boundaries Affirmations To Help You Become More Assertive
Boundaries Worksheet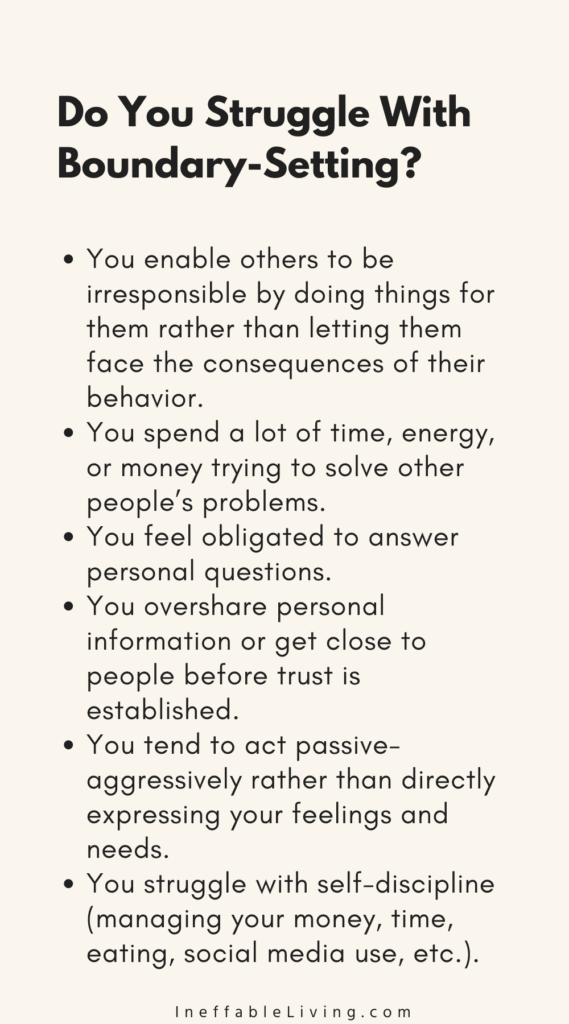 How Books About Setting Boundaries Can Help
Books about setting boundaries can be incredibly helpful in many ways. Here are a few ways they can assist:
1. Understanding the importance of boundaries: Books about setting boundaries often explain why boundaries are necessary for maintaining healthy relationships, protecting one's well-being, and establishing personal limits. They provide insights into how boundaries can enhance self-esteem, improve communication, and foster respect.
2. Learning how to establish boundaries: These books offer practical guidance on how to set appropriate boundaries in various areas of life, such as relationships, work, and personal space. They provide strategies for identifying and communicating one's needs effectively, assertively saying no, and expressing boundaries without guilt or fear.
3. Recognizing unhealthy patterns: Books about setting boundaries often explore common patterns that undermine healthy boundaries, such as people-pleasing, codependency, or enabling behaviors. By understanding these patterns, readers can gain self-awareness and start recognizing when boundaries have been crossed or compromised.
4. Developing self-confidence: Setting boundaries requires a strong sense of self-worth and self-assuredness. Books in this genre often provide exercises and insights that can help individuals strengthen their self-confidence, develop self-compassion, and overcome any fears or anxieties associated with boundary-setting.
5. Navigating difficult relationships: Some books about setting boundaries delve into navigating challenging relationships, such as toxic friendships, controlling family members, or manipulative colleagues. They offer advice on how to establish clear boundaries, make tough decisions, and deal with potential conflicts that may arise.
6. Promoting self-care and well-being: Boundaries play a crucial role in self-care. Books on this topic often emphasize the significance of prioritizing one's physical, emotional, and mental well-being. They provide tips and strategies for practicing self-care, setting aside personal time, and ensuring that one's needs are met.

Conclusion
Books are a valuable resource, but applying their lessons to real-life situations may require practice and patience.
It's essential to be kind to oneself throughout the boundary-setting process and seek support from friends, family, or professionals if needed.
As a BetterHelp affiliate, we may receive a commission from BetterHelp, at zero cost to you, if you click through the link and finalize a purchase.