Codependency blogs are usually written either by mental health professionals and codependency coaches or people who have experienced codependency themselves.
Below is a list of 10 blogs that I think are worth checking out, along with other free codependency resources: Codependency quiz, Co-dependents anonymous, Codependency Instagram and Pinterest accounts to follow, Codependency TED talks, Codependency Podcasts, and much more.
10 Relatable Codependency Blogs
Darlene Lancer JD LMFT is a Licensed Marriage and Family Therapist and relationship and codependency expert. Lancer wrote Codependency for Dummies and Conquering Shame and Codependency: 8 Steps to Freeing the True You.
Over the course of 30 years, Lancer have been providing self-esteem and codependency counseling and helped countless men and women recover from codependency and trauma.
Certified by Erickson Coaching International, Hailey have helped over 150 clients throughout the United States, Canada, South Africa, France, Ireland, Yemen, and beyond break the people-pleasing pattern.
Hailey have facilitated group coaching sessions in partnership with WeWork, Amazon, Women In Music, and a variety of other companies and organizations, and her writing has been published on The Gottman Institute Blog, Medium's Better Humans, and more.
Helen Snape became a transformational relationship coach, after 19 years in Human Resources and Development.
She works with women on breaking free from people-pleasing, codependency, and bad relationships to build a life they love.
Related: Take The Echoist Quiz (The Opposite Of A Narcissist)
Sharon Martin, LCSW is a licensed psychotherapist specializing in codependency recovery with an online practice serving California residents.
For the past 20 years, she's been helping perfectionists and people-pleasers overcome self-doubt and shame, embrace their imperfections, learn to set boundaries, and reclaim their self-worth.
Sharon writes the blog Conquering Codependency for Psychology Today and is the author of The CBT Workbook for Perfectionism and The Better Boundaries Workbook.
Michelle Farris is a licensed psychotherapist and anger management specialist.
She helps others build healthy relationships without sacrificing themselves while using her own recovery to provide hope for creating a happier life.
She has written three e-books and has created several online courses to support private learning.
Her articles have been featured in several online publications including Psych Central, Bustle, Your Tango, The Good Men Project and The Daily Positive.
Sherry Gaba, LCSW is a Psychotherapist, Life Coach, and Certified Recovery Coach who helps people cope with codependency, love addiction, toxic relationships, and mental health issues.
Sherry is the author of Love Smacked, in which Sherry addresses relationship addiction and codependency.
Sherry maintains a private practice and is the founder of Wake-Up Recovery, an online group coaching program that applies the principals of positive psychology, law of attraction, and mindfulness for codependents, love addicts, and toxic relationships.
Melody Beattie is one of America's most beloved self-help authors and a household name in addiction and recovery circles.
Her international bestselling book, Codependent No More, introduced the world to the term "codependency" in 1986.
Millions of readers have trusted Melody's words of wisdom and guidance because she knows firsthand what they're going through.
In her lifetime, she has survived abandonment, kidnapping, sexual abuse, drug and alcohol addiction, divorce, and the death of a child. "Beattie understands being overboard, which helps her throw bestselling lifelines to those still adrift," said Time Magazine.
Lisa A. Romano is a Certified Life Coach who specializes in codependency and narcissistic abuse.
Through her personal struggles, she has found a way out of the confusion a codependent mind can be.
Sophie Shiloh coaches codependent Millennial women. She helps her clients stop people-pleasing & start living the amazing lives they've always dreamed of.
Sophie believes that women don't need to spend another moment in the painful cycle of self doubt, low self worth, and putting themselves last.
You've landed on the Ineffable Living blog, which I created to bring offer practical tips and actionable steps you can take today to heal from codependency.
I'm a counselor specializing in treating codependency. I'm also a recovered codependent using my experience to help others feel more empowered and take back control over their lives.
In addition to all the free resources on this site, I offer worksheets and workbooks to help you increase your self-awareness and work on your issues.
Related: Codependency Quiz (+FREE Codependency Worksheets PDF)
Get FREE Overcome Codependency Worksheets
Co-Dependents Anonymous
Co-Dependents Anonymous World: Recovery program for codependence. Find a local or online meeting. If you desire healthy & loving relationships CoDA can help.
Co-Dependents Anonymous UK: Co-Dependents Anonymous is a fellowship of men and women whose common purpose is to develop healthy relationships.
Codependents Anonymous Australasia: Co-dependents Anonymous (CoDA) is a worldwide network of groups of men and women who share the common purpose of learning how to develop and maintain healthy and fulfilling relationships.
Co-Dependents Anonymous Canada: Co-Dependents Anonymous is a fellowship of men and women whose common purpose is to develop healthy relationships. The only requirement for membership is a desire for healthy and fulfilling relationships.
Codependency Forums
Dailystrength Codependency support group
Codependency Instagram Accounts to Follow
Sherry Gaba, LCSW (@codependencycurious)
Sophie | Codependency Coach (@codependentmillennial)
The Codependency Coach (@jowestwood)
Kholoud | UCI Certified Codependency Recovery Coach (@codependencycoaching)
Roslyn Saunders – Codependency, Addiction Expert (@roslynsaunders)
Quincee Gideon, PsyD (@drquincee)
Rebecca Vivash – Registered Counsellor (@rebeccavivashcounselling)
Lety, Holistic Trauma Coach (@cptsd_codependencyhealing)
Norma Renata – Queer Codependency Coach (@normarenatacoaching)
Rachel – Anxiety | Codependency Coach (@rachelellwoodcoaching)
Codependency Pinterest Accounts to Follow
Codependency Recovery: Darlene Lancer – Psychotherapist-Author of "Conquering Shame and Codependency," "Codependency for Dummies," "How To Speak Your Mind" "10 Steps to Self-Esteem"
Lisa A. Romano Breakthrough Life Coach Inc: Lisa A. Romano Certified Life Coach and Author www.lisaaromano.com/12-wbcp Creator of the groundbreaking 12 Week Breakthrough Codependency Coaching Program.
Counseling Recovery: Michelle Farris
Codependency TED Talks
Emotional Dependency | Arun Mansukhani
The Difference Between Healthy And Unhealthy Love | Katie Hood
Codependency Podcasts
The Codependent Millennial Podcast: Sophie helps you heal from codependency by delving into the most important issues that contribute to it, like people-pleasing, emotional childhood, insecurity, enmeshment, resentment, and so much more.
Love Over Addiction: A free podcast for women who love someone that drinks too much or suffers from addiction.
Lisa A Romano Breakdown to Breakthroughs: A podcast committed to healing from codependency, narcissistic abuse, with a heavy emphasis on raising consciousness for the benefit of healing mind, body, and soul.
Codependency No More Podcast: In the Codependency No More Podcast, Brian and Jennifer take you along on their journey of codependency recovery. While having conversations with experts, other codependents, and each other, they expose you to experiences and points of view to help you in your own journey of codependency recovery.
Read: Best 20 Must-Read Books On Codependency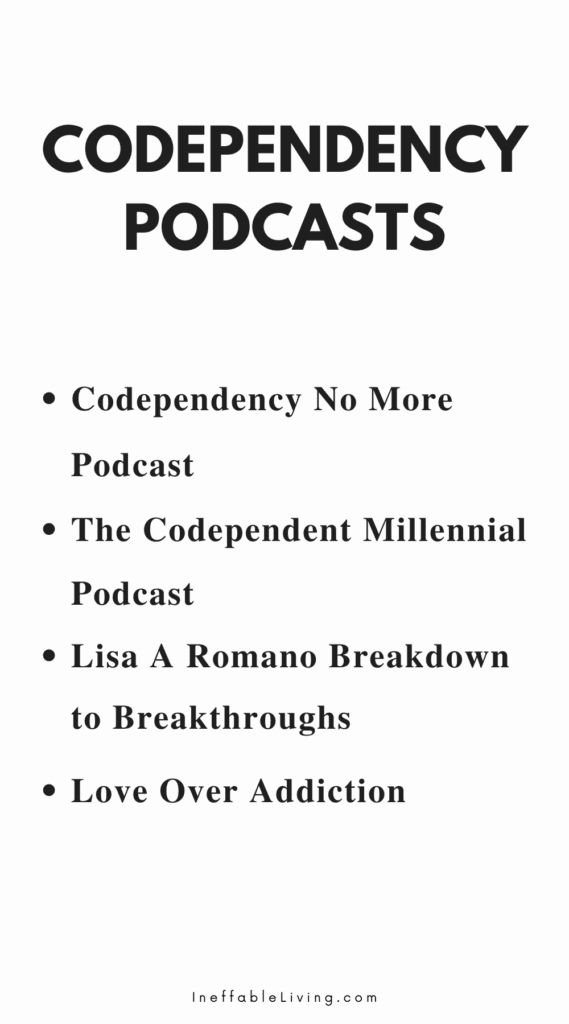 Codependency FAQ
1. What Is Codependency?
The Merriam Webster's online dictionary defines codependency as: "A psychological condition or a relationship in which a person is controlled or manipulated by another who is affected with a pathological condition."
In other words, codependency is a disorder of selflessness, passivity, and personal powerlessness.
Codependents are naturally giving, sacrificing, and consumed with the needs and desires of others.
They repeatedly find themselves attracted to partners who are a perfect counter-match to their uniquely passive and submissive attitude.
Codependents confuse caretaking with love. Their role as the martyr who is endlessly devoted and loving is an extension of their yearning to be loved and cared for as children.
They yearn to be loved, but because of their chosen partner, they habitually end up feeling unappreciated and used.
Although they are unhappy, they pretend to enjoy the relationship, while harboring feelings of anger, bitterness, and sadness.
They are also convinced that they will never find someone who will love them for who they are. Their low self-esteem manifests itself into a form of learned helplessness that keeps them stuck with their emotional manipulator partner.
They believe that being alone is the equivalent of feeling lonely, and loneliness is too painful for them to bear.
Codependency is not equally intense with everyone.
For some people, codependency is integrated into the relationship without constituting a real problem. For other people, codependency becomes very often an out of control issue and attracts toxic people.
Codependency Traits
As a codependent, you may struggle with the following issues:
1. Perfectionism,
Recommended Read: Perfectionism and Procrastination: 10 Ways to Overcome Covert Perfectionism & Get Things Done
2. People-pleasing,
Recommended Read: How to Overcome People Pleasing for Good? 22 Proven Ways to Stop Being a People Pleaser (+Free Worksheets)
3. Boundary setting,
Recommended Read: Defining Boundaries: 25 Effective Ways to Set Healthy Emotional Boundaries?
4. Love addiction,
Recommended Read: Top 9 Love Addiction Symptoms, According To Psychology – & How To Overcome Love Addiction
5. Shame,
Recommended Read: 10 Signs of Toxic Shame — and How to Overcome Toxic Shame?
6. Emotional abuse,
Recommended Read: How to Identify Emotional Abuse and Recover from It?
7. Trauma,
Recommended Read: Trauma Release Exercises: 6 Practical Exercise to Support Healing After Trauma
8. Anxiety
Recommended Read: Anxiety Relief: How to Treat Anxious Symptoms and Thoughts Effectively?
9. Depression,
Recommended Read: Hidden Depression: 8 Clear Signs You Might Be Secretly Depressed?
10. Low self-esteem,
Recommended Read: 18 Practical Exercise to Build High Self-Esteem, According to Psychology
11. Poor communication,
Recommended Read: How to Communicate More Effective in Relationships (Effective Communication)
12. Lack of self-awareness.
Recommended Read: Top +100 Journal Prompts For Self-Discovery (+Free PDF Download)
2. What Codependency Is Not
Some people are labeled "codependent" simply because they are taking care of a sick relative or helping someone.
Codependency is not about the act of taking care of someone. It's about the motive behind the act.
3. Is Codependency a Disease?
That codependency is a disease that was first suggested in 1988 by psychiatrist Timmen Cermak.
Although Disease may sound morbid, codependency is only a condition with progressive symptoms that impair normal functioning.
Alcoholism was termed a disease in 1991 by the American Medical Association (AMA) along with drug dependencies.
Since then, experts have applied the medical model of disease to sex, food, gambling addictions, and also codependency.
4. Does Codependency Affect Physical Health?
A growing number of studies has shown that poor mental health can be a risk factor for ill-health and chronic illness. (*)
The chronic stress of codependency can wear down the body's immune and nervous systems and cause health problems, including heart disease, digestive, and sleep disorders, muscle tension and pain, ulcers, and chronic fatigue syndrome.
5. What Causes Codependency?
Codependency is a survival mechanism used by the child in response to abuse, neglect, or inconsistently applied rules.
Codependency helps the child get the love he needs by feeling responsible for others' happiness and learning what it takes to always please others.
While these beliefs and behaviors may have helped the child survive and make life more bearable, as an adult, these survival strategies become counterproductive – They need to be upgraded or completely changed.
6. How Taking Care of Someone Can Be An Issue?
While there is nothing wrong with taking care of each other within relationships, caretaking becomes problematic when it is used as a means to control a relationship and get the love and attention we crave.
Codependent relationships are based on the need to be together rather than on the will or pleasure of being together.
Caretaking vs. caregiving
Caregiving comes from abundance. It gives freely.
Caretaking, on the other hand, comes from need and deprivation. It comes with strings attached.
With codependency, there may be more "taking" than giving.
Related: Caregiving vs Caretaking (The Savior Complex)
7. Codependency vs. Dependent Personality Disorder
What is Dependent Personality Disorder?
The American Psychiatric Association's official manual of mental disorders DSM-5 defines dependent personality disorder (DPD) as "A pervasive and excessive need to be taken care of that leads to submissive and clinging behavior and fears of separation."
Diagnostic criteria for DPD defined by the DSM-5 include:
1. Has difficulty making everyday decisions without an excessive amount of advice and reassurance from others.
2. Needs others to assume responsibility for most major areas of his or her life.
3. Has difficulty expressing disagreement with others because of fear of loss of support or approval. (Note: Do not include realistic fears of retribution.)
4. Has difficulty initiating projects or doing things on his or her own (because of a lack of self-confidence in judgment or abilities rather than a lack of motivation or energy).
5. Goes to excessive lengths to obtain nurturance and support from others, to the point of volunteering to do things that are unpleasant.
6. Feels uncomfortable or helpless when alone because of exaggerated fears of being unable to care for himself or herself.
7. Urgently seeks another relationship as a source of care and support when a close relationship ends.
8. Is unrealistically preoccupied with fears of being left to take care of himself or herself.
What's The Difference?
Codependency and Dependent Personality Disorder (DPD) share the most overlap.
However, codependents tend to display dependent traits that are focused only on a specific person, while dependency in DPD is more pervasive and is directed towards others in general.
Moreover, DPD is characterized by an excessive need to be taken care of, while a codependent is usually someone who gives a lot and takes care of people.
In a way, dependency in codependency is emotional, while in DPD, dependency is far more pervasive.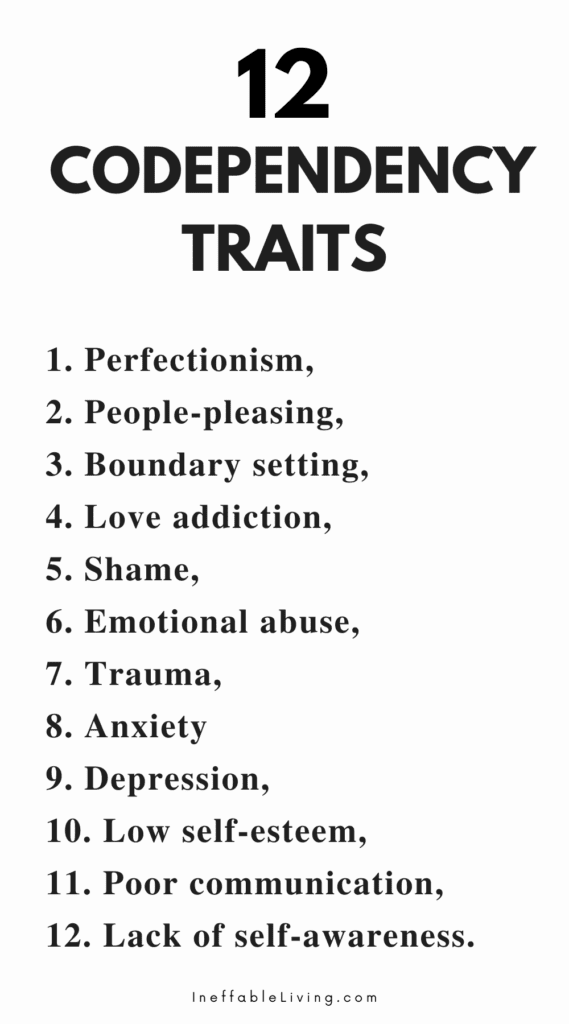 References
As a BetterHelp affiliate, we may receive a commission from BetterHelp, at zero cost to you, if you click through the link and finalize a purchase.