This post contains some of the best mom self care quotes.
What Is Self-Care?
Self-care refers to any intentional and self-initiated action taken to maintain one's physical, mental, and emotional health.
This can include activities such as exercise, meditation, healthy eating, practicing good sleep habits, spending time with loved ones, engaging in hobbies, seeking professional help when needed, and setting boundaries.
Self-care is important for promoting a sense of well-being, reducing stress, and improving overall quality of life.
It is a proactive approach to maintaining good physical and mental health.
Mom Self Care Quotes
1. "It's not selfish to love yourself, take care of yourself, and to make happiness a priority. It's necessary." — Mandy Hale
2. "Put yourself at the top of your to-do list every single day, and the rest will fall into place." — Unknown
3. "Self-compassion is simply giving the same kindness to ourselves that we would give to others." — Christopher Germer
4. "We only get to be in our bodies for a limited time, why not celebrate the journey instead of merely riding it out until it's over?" – Jen Sincero
5. "Women in particular need to keep an eye on their physical and mental health, because if we're scurrying to and from appointments and errands, we don't have a lot of time to take care of ourselves. We need to do a better job of putting ourselves higher on our own 'to do' list." — Michelle Obama
Related: Top 45 Self Care Day Ideas at Home To Kickstart Your Self Care Ritual
6. "Keep taking time for yourself until you're you again." — Lalah Delia
7. "Do something nice for yourself today. Find some quiet, sit in stillness, breathe. Put your problems on pause. You deserve a break." — Akiroq Brost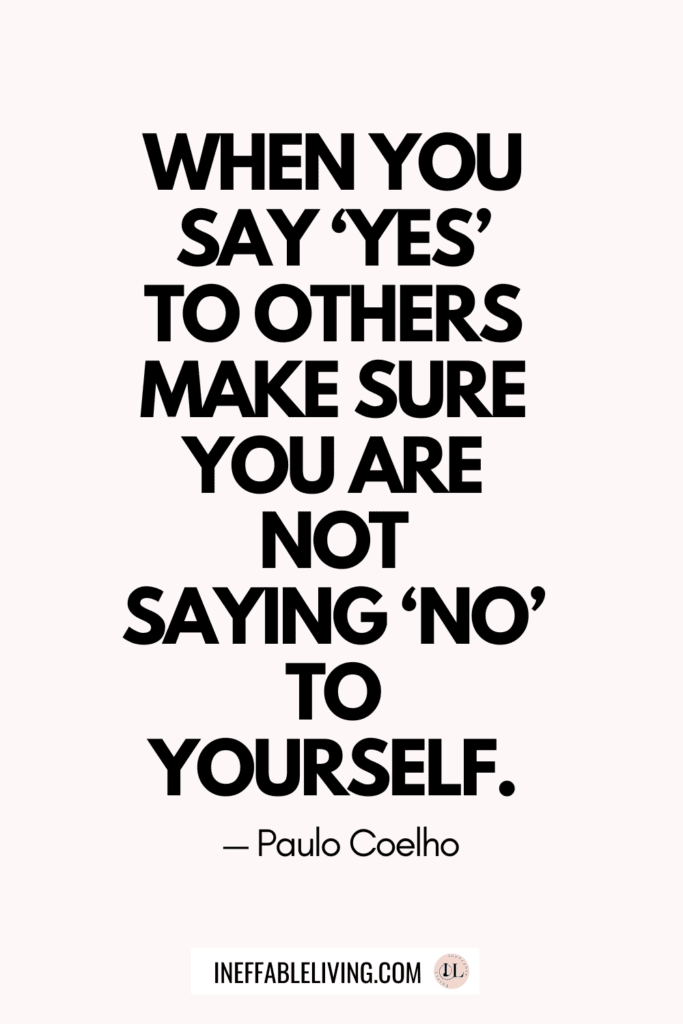 8. "Self-care is giving the world the best of you, instead of what's left of you."— Katie Reed
9. "Caring for your body, mind, and spirit is your greatest and grandest responsibility. It's about listening to the needs of your soul and then honoring them." — Kristi Ling
10. "There are days I drop words of comfort on myself like falling leaves and remember that it is enough to be taken care of by myself."— Brian Andreas
11. "When you say 'yes' to others make sure you are not saying 'no' to yourself." — Paulo Coelho
12. "Learning to love yourself is like learning to walk–essential, life-changing, and the only way to stand tall." — Vironika Tugaleva
13. "You carry so much love in your heart. Give some to yourself." — R. Z
Related: How To Be Gentle With Yourself? Top 5 Ways To Practice Self-Compassion
14. "By taking care of myself I have so much more to offer the world than I do when I am running on empty." — Ali Washington
15. "Self-care has become a new priority – the revelation that it's perfectly permissible to listen to your body and do what it needs." — Frances Ryan
16. "Love yourself enough to set boundaries. Your time and energy are precious. You get to choose how you use it. You teach people how to treat you by deciding what you will and won't accept." — Anna Taylor
17. "Take time off. The world will not fall apart without you." — Malebo Sephodi
18. "You are worth the quiet moment. You are worth the deeper breaths and you are worth the time it takes to slow down, be still, and rest." — Morgan Harper Nichols
19. "When you recover or discover something that nourishes your soul and brings you joy, care enough about yourself to make room for it in your life." — Jean Shinoda Bolen
Related: Best 25 Journal Prompts For Self Love And Confidence Building
Self-Care Worksheets
20. "You are beautiful and worthy of good things, and if you don't believe that, nobody will." — Rachel Hollis
21. "It's okay to take time for yourself. We give so much of ourselves to others, and we need to be fueled both physically and mentally. If we are in balance, it helps us in all our interactions." — Faith Hill
22. "It's not selfish to love yourself, take care of yourself, and to make happiness a priority. It's necessary." — Mandy Hale
23. "Carve out and claim the time to care for yourself and kindle your own fire." — Amy Ippoliti24. "I have come to believe that caring for myself is not self-indulgent. Caring for myself is an act of survival." — Audre Lorde
25. "There is enough time for self-care. There is not enough time to make up for the life you'll miss by not filling yourself up." — Jennifer Williamson
26. "Doing nothing has become one of the lost luxuries in these hectic times. But doing nothing, even for five minutes, can be rejuvenating. Go for it: You – unplugged." — Joan Marques
Related: Best 100 Self Care Affirmations To Honor Yourself
27. "Taking care of myself doesn't mean 'Me First', it means 'Me Too." — L.R. Knost
28. "Be kinder to yourself. And then let your kindness flood the world." — Pema Chodron
29. "Take care of yourself as if you're the most awesome person you've ever met." — Jen Sincero
30. "When we give ourselves compassion, we are opening our hearts in a way that can transform our lives." — Kristin Neff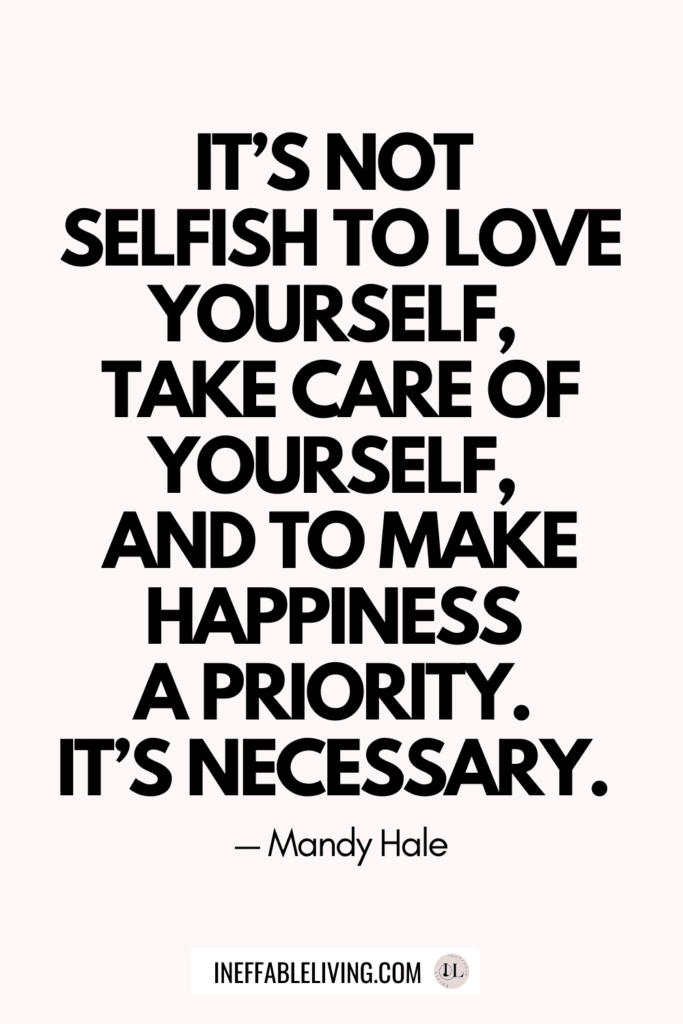 31. "When you take care of yourself, you're a better person for others. When you feel good about yourself, you treat others better." — Solange Knowles
32. "Sometimes self-care is exercising and eating right. Sometimes it's spending time with loved ones or taking a nap. And sometimes it's watching an entire series of television in one weekend while you lounge around in your pyjamas. Whatever soothes your soul." — Unknown
33. "In my own deepening understanding of myself I find my capacity to serve others is deepened as well. The better I am at self-care the more genuinely nurturing of others I am able to be." — Mary Anne Radmacher
34. "Self-care is how you take your power back." – Lalah Delia
35. "Take care of yourself as if you're the most awesome person you've ever met." – Jen Sincero
Related: How To Start A Self Love Journey? Top 10 Powerful Ways to Love Yourself More
36. "Caring for your body, mind, and spirit is your greatest and grandest responsibility. It's about listening to the needs of your soul and then honoring them." — Kristi Ling
37. "Self-care is not a waste of time; self-care makes your use of time more sustainable." — Jackie Viramontez
38. "Those who have not time for bodily exercise will sooner or later have to find time for illness." — Edward Stanley
39. "Take care of your body. It's the only place you have to live." — Jim Rohn
40. "Rest and self-care are so important. When you take time to replenish your spirit, it allows you to serve others from the overflow. You cannot serve from an empty vessel." — Eleanor Brown
Related: Top 39 Self Love Mantras To Practice Daily (+9 Ways To Grow In Self-Love)

45 Ways to Practice Self-Care At Home
1. Take a bubble bath or hot shower
2. Practice meditation or mindfulness
3. Write in a journal
4. Read a book or listen to an audiobook
5. Take a nap or have a good night's sleep
6. Go for a walk or run outside
7. Practice yoga or stretching
8. Make yourself a healthy meal or snack
9. Watch a comforting movie or TV show
10. Listen to calming music or podcasts
11. Take breaks from social media and digital devices
12. Practice gratitude by writing down things you are thankful for
13. Spend time with pets or animals
14. Create art or craft projects
15. Do a puzzle or play a board game
16. Declutter and organize your living space
17. Light candles or use essential oils for aromatherapy
18. Take yourself on a date, such as to a museum or park
19. Take a technology break and disconnect from all electronics
20. Take up a new hobby, such as knitting or painting
21. Treat yourself to a DIY spa day
22. Reflect on your goals and set intentions
23. Talk to a loved one or friend
24. Learn something new through online classes or tutorials
25. Experiment with new recipes or cooking techniques
26. Create a self-care routine and make it a daily habit
27. Develop a positive affirmation practice
28. Watch comedy shows or read funny books
29. Take a break from work and responsibilities
30. Take a relaxing bath with epsom salt or sea salt
31. Participate in virtual fitness classes or exercise at home
32. Brew yourself a cup of tea or coffee
33. Get lost in a good book or podcast
34. Treat yourself to a nice meal or order in
35. Reminisce on fond memories by looking at old photos
36. Light a fire and cozy up with blankets and pillows
37. Take a break from news and social media to reduce stress
38. Soak your feet in warm water and add essential oils
39. Write yourself love letters or positive affirmations
40. Take a digital detox and spend time in nature
41. Practice deep breathing exercises
42. Spend time in your garden or start a new green project
43. Make a vision board and visualize your dreams
44. Spend time with friends and family on video calls
45. Listen to calming music or white noise to fall asleep
As a BetterHelp affiliate, we may receive a commission from BetterHelp, at zero cost to you, if you click through the link and finalize a purchase.