How to Start Loving Yourself Again? 7 Ways to Start Self Love Journey
We must fall in love with ourselves. I don't like myself. I'm crazy about myself. –Mae West
We all criticize ourselves.
Our inner critical voice is constantly telling us where we could do better and what we should have done differently.
And there is nothing wrong with criticizing yourself. It helps you improve and make better choices.
However, when your inner critical voice takes over and all it does is talk negatively, set unattainable goals for you, drive you to perfection all the time, it becomes an issue.
But how do we stop self-loathing and simply love ourselves?
Today, you're going to learn how to improve your relationship with yourself and to practice self-love.
Ready? Let's get started!
This article contains affiliate links. That means, if you click through and make a purchase using an affiliate link, I will earn a small compensation at no extra cost to you.
Self-loathing
In essence, self-loathing is an extreme form of low self-esteem. You beat yourself up over everything you do believing that you can't do anything right and that you're worthless.
Most importantly you don't believe you are worthy of anyone's love. These thoughts are dangerous and can become a self-fulfilling prophecy.
Examples of self-loathing can be statements such as: I am incompetent, not good enough, stupid, ugly, embarrassing etc.
Self-loathing vs. conscience
Many people with low self-esteem confuse self-loathing with conscience. They believe that their inner critical voice is the voice of consciousness.
While your consciousness tells you what is morally correct and how to behave responsibly, self-loathing, on the other hand, beats you up for everything you are without you challenging it or recognizing that something is wrong with the way you talk to yourself.
8 Signs That You Have a Self-Loathing Mindset
1. Apologizing for every thing that goes wrong. You think you are always at fault.
2. Setting goals low so you won't disappoint yourself. You believe you're not capable of reaching bigger goals.
3. Physical neglect. You do not care about your physical appearance and the basic personal hygiene.
4. Struggling to accept compliments. You always worry about the intent behind compliments.
5. Constantly comparing yourself to others.
6. Depending on spending for approval. You need to acquire material goods to feel good about yourself or you buy 'affection' through expensive gifts.
7. Depending on social media for approval. You find yourself constantly checking your likes and followers number and posting on your "pretend life".
8. Feeling afraid to fall in love. You're convinced that once your partner discovers the real you, he's going to leave. Which becomes a self-fulfilling prophecy. If you won't love and accept yourself, who else will?
You alone are enough. You have nothing to prove to anyone. –Maya Angelou
What causes Self-Loathing?
Self-loathing starts in childhood
Your critical inner voice can develop early on as you find yourself trying to figure out life and how to live it. It affects your thoughts and controls your behavior.
You believe it's protecting you but in reality, it's reinforcing feelings of guilt and shame and self-destructive behaviors.
As a child, you were extremely sensitive to the smallest increase your one or both of your parents' level of anger and stress.
Some children were abuse emotionally (were literally taught that they are worthless, bad, inadequate, not good enough etc.) or even verbally and physically.
Even well-meaning parents, who did not understand the implications of some of their words, might have caused their child to take these words as core beliefs.
Fortunately, for most, negativity and anger episodes are few and far between. But for others, their experiences could have piled on guilt and shame leading to self-loathing.
Confirmation bias
Confirmation bias is a term used to explain the tendency for your mind to search for evidence to support your beliefs.
When you struggle with self-loathing, you will actively search for evidence that will support your beliefs about yourself. The evidence is mostly pure fabrications, whereas anything that suggests otherwise you will reject it.
This makes self-loathing a learned behavior, but it also means that it can be unlearned.
Self-Love Is Important: What Is Self-Love?
Self-love is about making space and prioritizing yourself. It allows you to embrace your life completely and wholeheartedly.
Practicing self-love helps you extend kindness and compassion toward yourself when you're struggling and forgiveness when you make mistakes.
Self-love is a realistic, appreciative opinion of oneself.
"Realistic" means that we are aware of our strengths and weaknesses.
"Appreciative" means that we have an overall positive feeling about our self, despite our imperfections.
Related: Learning To Love Yourself : 21 Day Self-Love Challenge
What Self-Love Isn't
Self-love does not equal perfection. If anything, people who are neurotically driven toward perfection are often trying to compensate for a lack of self-esteem.
Self-love is not narcissism—the false security that implies that one is more worthwhile than others and should be on a pedestal. If anything, narcissism leads one to overcompensate by having feelings of grandiosity or entitlement.
Finally, self-love is not selfishness. A selfish person is someone who cares only for himself. The other extreme is someone who cares only for others. A person with a healthy self-esteem has healthy regard and respect for self and others.
Healthy self-love and wholesome humility come hand in hand. A person who feels humility recognizes that all people are worthy and that we can learn from everyone.
It's Not All Bubble Baths and Manicures
Most people believe that self-love is indulgent and luxurious. They believe that they don't have the time for it when their work and families demand so much time and energy.
Relaxation and pampering are a good way to practice self-care and self-love. But true self-love is more about creating an authentic life, identifying our values and being honest with ourselves. It's also about breaking free from self-destructive patterns and negative beliefs.
True self-love comes from deep within.
The pathway to self-love must include deliberate practice and mindful focus to build this skill. Your willingness to practice these habits is the fuel that will get you there.
Related: Raising low self-esteem: 18 Ways to Build High Self-Esteem
Loving Yourself First: 7 Ways to Love Yourself
#1. Healthy Body, Healthy Mind
There is a strong relationship between our body and our mind. When you don't take adequate care of your body, your mental health will begin to deteriorate.
You get out of shape. You might experience chronic pain and be more prone to getting sick. As a result you start experiencing a lowered sense of self-worth.
By not taking care of your body, you are directly telling your mind that you don't feel worthy of the time and attention and you prioritize other things. This damages your self-esteem and confidence.
Our bodies can also directly impact our mental health. An unhealthy body generally has imbalanced hormones, which affects the way we perform basic tasks and increases our stress.
Balance your health once again by doing to the following:
1. Take better care of your diet
Your gut health is responsible for nearly your whole body including your hormones and organ function.
Make sure your diet is rich in color, include adequate proteins, fatty acids, and other important nutrients. Steer away from processed food and artificial sweeteners.
A Brain-Friendly Diet
* Consume most of your calories from minimally processed plant foods.
* Reduce the size of meat servings, especially red and processed meat (for example, corned beef, bacon, ham, salami, hot dogs).
* Keep blood sugar steady by eating a high-quality protein breakfast (for example, eggs or yogurt) and not skipping meals, and minimize sugar-sweetened beverages and snacks.
2. Exercise more frequently
This isn't just about going to the gym. Exercise should be a lifestyle.
Small choices such as going for a walk, taking the stairs instead of the elevator, walking your pet or volunteering to walk the neighbor's pet, etc, can add up and improve your health.
3. Receiving adequate rest
Getting a consistent, high-quality sleep has a significant role in improving your well-being. It reduces your stress levels and helps you function effectively throughout the day. Make sure you get 7 to 8 hours of sleep every night.
Go to bed earlier and set a night routine that helps you relax, such as a light dinner, reading fiction, taking a warm bath, drinking chamomile tea, lowering your house light an hour before bedtime, turning off screens, etc.
9 Healthy Sleeping Habits
Keep Regular Hours Go To Bed And Wake Up At The Same Time Every Day
Cut Back On Blue Light Emitted From Electronic Devices
Know Your Chronotype (Are You an AMer or a PMer?)
Limit caffeine after lunch and alcohol at night.
Keep Your Bedroom Cool Rather Than Warm
Dim The Lights At Night
Put Everything in Its Right Place For Morning
Write Down Your Thoughts
Have a Light Exercise
Related: 45 Easy Self Care Day Ideas at Home for a Healthy Mind, Body & Soul
Journaling is perhaps the simplest and cheapest form of therapy. It can provide a reminder and feedback when times get tough.
It can also help you learn more about yourself—your perceptions, judgments, and assumptions, provide an outlet for pent-up emotions and frustrations.
Writing for twenty minutes daily has been shown to improve mood, decrease stress and anxiety, and even improve the immune system as it helps release negative emotions and stress.
The following are some journaling prompts to help you learn more about yourself:
What is your favorite thing about your personality?
What do you think your biggest weakness is? What can you do to improve?
How would your best friend describe you?
What are you most grateful for in your life?
Is there anything that happened a long time ago that you're still ruminating about?
What is the thing that you need to forgive yourself for?
What are the things that you need to stop doing and that are making you unhappy?
What is your favorite thing to do to treat yourself?
When do you feel most happy?
What would you change in your life if you were more confident?
Get Your Free Journaling Prompts
#3. Practice The Inner Dialogue of Self-Love
People who lack self-esteem talk to themselves in negative, self-defeating way that further undermines their self-esteem.
By changing your inner dialogue, you lay down new neural pathways in your brain that with practice become your automatic way of talking to yourself.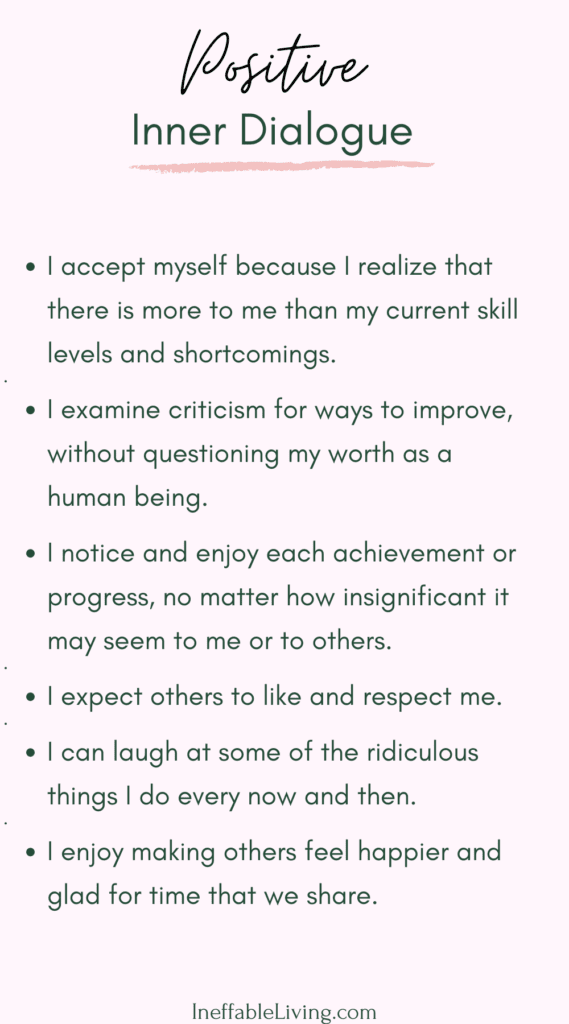 Related: Raising low self-esteem: 18 Ways to Build High Self-Esteem
#4. Practice Radical Acceptance
You increase your ability to tolerate distress and reduce your suffering when you begin to change your attitude toward pain.
When a person is in pain, their first reaction is to get upset or frustrated about their pain, or even blame someone for causing the pain.
Their frustration and blame would only increase the pain and lead to suffering.
What's the difference between pain and suffering?
1. Pain Has A Purpose
Just as physical pain is designed to notify us when something is wrong, so is emotional pain.
While you hate being in pain, if you didn't have pain, chances are you would be dead by now. Physical pain sends a powerful signal that something is wrong, nudging you to take action of some kind before your situation gets worse, potentially leading to a premature death.
Emotions work the same way. They signal you to do something about your current situation. Perhaps, you need to quit your job, let go of toxic relationships, or change a disempowering story that creates suffering in your life.
2. Suffering Is A Choice
When you don't look at the underlying causes for your emotional by avoiding it or ignoring it, and choose instead to focus on the unpleasant way it makes you feel, you create suffering.
You get caught up in negativity and complaining at the unfairness of our situation, when you focus on the discomfort, rather than noticing the message behind it.
Unfortunately, this can only prolong the pain—and create suffering.
3. Accepting The Pain While Avoid Suffering (In A Healthy Way)
The first reaction people have when they feel discomfort, is to silence their painful emotions using food, alcohol, drugs, sex, or even work.
However, the only way to stop suffering is to actually choose to stay open to our pain and carefully listen to what it is trying to tell you.
You don't have to let your pain make you angry or frustrated. You can learn to observe your pain and its feedback, while realizing that emotions are fleeting and temporary.
Related: Overcome Suffering In Your Own Way: 4 Keys To Relieve Suffering
#5. Meditation
Meditation has many emotional, physical, and spiritual benefits. It helps you manage stress and allows you to relax and find peace. This is why meditation can significantly improve chronic health issues like anxiety, chronic pain, insomnia, hypertension, and inflammatory illnesses.
When you meditate, you're fully present and the only thing that exists is that moment. This allows for creativity and new ideas to flow freely.
The calming effect meditation has on our minds and bodies, makes it a great form of self-love.
Get comfortable, dim the lights and take a few deep breaths. If a thought comes into your mind, notice it and imagine writing it down on an imaginary sticky note to attend to later. Then shift your focus back to your breathing.
You don't have to be in the comfort of your home to meditate, you can practice it anywhere – when you're waiting for the subway, right before a test, when you're waiting in line at the grocery store, etc.
Mindful Meditation
1. Take a few moments to be still and enter the world of being rather than doing.
2. Begin this exercise by focusing on your breath and feeling into your body and mind and simply allowing any thought, emotion, or physical sensation to just be.
3. You don't need to judge, analyze, or figure things out. Spend about three minutes simply checking in with yourself.
Apps like The Mindfulness App, Headspace, Calm, and buddhify can help introduce you to mindfulness and silent meditations.
Guided Imagery Meditation
After calming yourself through breath and focus, imagine something pleasing or calming.
The key to effective visualization involves full sensory awareness. If you're, for example, imagining a beach scene, focus on the colors you see – the blue sky with white puffy clouds, the blue water, etc. Imagine the smell of the salty air, the feel of the warm sun. Scan the scene and notice all the details that you might usually miss.
#6. Yoga and Stretching
When we're stressed, our muscles tighten up and become tense.
Our fight or flight stress response sends chemicals and oxygen to our large muscle groups in order to respond to any real or perceived threat.
Living in a state of pent-up stress, prevents our bodies from releasing this built-up tension.
Yoga and stretching help you release any built-up tension and become a way to treat our bodies with love.
#7. Deep Breathing Exercises
Intentional breathing is one of the simplest, most effective ways to practice self-love.
Numerous studies show that mindful breathing help reduce panic and anxiety by altering hyperventilation and panic symptoms.
Breathing also allows us to focus on the present moment.
Exercise: Breathing Exercise
Deep breathing, especially abdominal breathing helps calm your nervous system and stimulate the vagus nerve – the nerve that connects your brain to your digestive system, heart, lungs, throat, and facial muscles and help regulate autonomic nervous system ANS.
To try the exercise, follow these steps:
1. Start by noticing your breath.
2. Breathe in deeply through your nose and into your belly (not into your chest).
3. Make a "voo" sound on your exhale to help stimulate the vagus nerve.
4. Repeat the exercise three to five times and notice if you feel calmer.
If you're still uncertain how to breathe correctly, many apps such as Calm and Prana Breath that can prompt you to breathe correctly and untentionally.
Even Five Minutes Are Better Than Nothing
Self-care opportunities happen all day long – getting some sunlight, making a hot cup of tea for yourself, writing down your thoughts in your journal, etc.
The best way to build a habit is to start small. Give yourself at least five minutes a day to connect with yourself.
Five-Minute Self-Love Hacks
Here are self-love acts you can do in five minutes
1. Connect with nature
Go outside and enjoy the sunlight and the fresh air. Take a deepbreath in through your nostrils. Feel the sensation of your lungs filling with air and exhale through your mouth while notice the calming effect on your body.
2. Journaling
Write down your thoughts and feelings without judgment. Sometimes all you need is to release your thoughts and feelings and writing can help you with that.
Self-love affirmations
Pick up some self-love affirmations and read them aloud daily. The following are some example:
I am worthy of love.
Loving myself is as important as loving others.
It is okay to ask for what I need and want.
My feelings are valid. There is no right or wrong way to feel.
Get Your Free Positive Affirmations Sheet
3. Set an alarm for 10 minutes before you have to get up
Use the few minutes to think gently thoughts that will help you start your day with a good mood.
"Am I There Yet?": 10 Signs You Love Yourself and Are Emotionally Healthy
How do you know when you are well enough to call yourself emotionally healthy?
For the most part, it is when you have achieved inner strength, security, and self-awareness.
However, the following are common signs to help you know how far you are in your growth journey:
1. You Allow Yourself to Feel What You Feel
When you are emotionally healthy, there is no sense of urgency to avoid your feelings.
You are comfortable with being anxious, afraid, sad, angry, or loving.
You allow these feelings to come and go, without judgment.
You also take responsibility for your own emotions, knowing that no one can make you feel anything without your consent and no one can change your difficult emotions or make them go away.
However, even though you're comfortable feeling and expressing your emotions, that doesn't mean you are not control of them.
When you are angry, you may choose to take a few deep breaths to calm yourself down, or write down your feelings and thoughts in your journal, before approaching the other person and addressing the issue.
When you are sad, you allow yourself to cry and to take some time to be alone, but you also don't get stuck in that feeling and use healthy ways to boost your moods.
In general, you don't view your difficult emotions as something to get rid of. Rather, you see them as a personal compass: a feedback about what is happening in your environment.
Related: 6 Simple Ways to Manage Difficult Emotions and Control Them
2. You Are No Longer Driven by Compulsive Behavior
Even though you might occasionally use compulsiveness to cope, you are self-aware and you take responsibility for the consequences of these behaviors without blaming anyone else.
Whether you use food, shopping, work, or anything else to cope with difficult emotions, you are self-aware and you know that eventually, you'll have to deal with these difficult emotions properly.
If things become unmanageable, you seek appropriate help.
Related: Overcoming Addiction: How to Get Any Kind of Addiction Under Control for Good?
3. You Follow an Effective Plan In Place to Take Care of Your Physical Health
An emotionally healthy person knows well that physical health and emotional health are interdependent, and that pain, lack of exercise, low sleep quality, and unbalanced diet can negatively impact his emotional health.
An effective self-care plan doesn't have to be perfect. The emotionally healthy person is self-aware about what he ingests, how well he's sleeping, his need for exercise, and any potential medical problems.
4. You Stretch Yourself Beyond Who You Are Today
Personal growth is an ongoing process.
When you're emotionally healthy, you accept yourself the way you are, but you also seek to learn more, out of joy rather than not feeling good enough.
This may mean learning more about your field, going back to school, finding a mentor, etc.
In other words, you are comfortable being the student and you try to learn something from everyone around you.
Related: How To Transform Yourself For Success: 12 Steps To Take Today To Change Your Life
5. You Have Supportive Relationships In Your Life
Emotionally healthy people are assertive and take responsibility for getting their needs met through supportive relationships.
When you're an emotionally healthy person, you choose to focus on the quality of small number of meaningful relationships, rather than trying to manage intimate relationships with a large number of people.
You are able to set limits and freely express your feelings.
6. You Form a Strong Identity
Strengthening identity is an ongoing process, but you will find comfort in knowing that you're self-aware.
You have preferences and opinions and you can express them without fear. You find it easier to make I-statements when expressing yourself.
Your beliefs change only when you choose to let go of old, limiting beliefs and embrace positive ones.
You still have a need for approval, but self-approval is a priority.
In general, you feel connected with your inner self and in line with your own values.
Related: Raising low self-esteem: 18 Ways to Build High Self-Esteem
7. You Are Able to Balance Work and Personal Life
Although balance can be an elusive goal, as you become emotionally healthier, work becomes the means to a fulfilling life, rather than the life itself.
Your motivation for work becomes focused more on being able to use your natural gifts and finding fulfillment through work, but it doesn't consume your life and it doesn't prevent you from enjoying your personal life.
Related: Wellbeing In The Workplace: 6 Ways to Improve Your Mental Health and Reduce Stress at Work
8. You Are Willing to Be Vulnerable
Emotionally healthy people are willing to be emotionally intimate and are never content to live in isolation or superficially with other people.
They are proactive in their relationships.
They worry less about choosing the right person and more about being the right person.
9. You Are Willing to Give to Other People
Emotionally healthy people have enough of what they need and are willing to be compassionate and generous towards other people.
Gratitude for the opportunities they have to give replaces resentment for not having their past needs met.
Related: 8 Healthy Ways to Become an Altruistic Person and Start Giving Freely
10. You Have Incorporated Spiritual Practices into Your Life
Being spiritual does not mean being a saint.
While religion can be a form of spirituality, there is a lot more to spirituality than religion.
Healthy spirituality is a conscious awareness of yourself and your environment.
When you are emotionally healthy, you are connected to your inner self and access inner guidance easily.
During tough times, you look inward or upward, whichever seems right, knowing that everything is going to be okay no matter what the outcome.
Although you have your ups and downs, you still feel centered and at peace.
Conclusion
Loving yourself can change your life in so many ways.
You'll be kinder and gentler with yourself. Your own encouragement and forgiveness will make your life more peaceful.
You'll start living fully and embrace your life wholeheartedly.
By loving yourself, you'll have more love to share with others. Your relationship will become healthier.
You become the creator of your own happiness.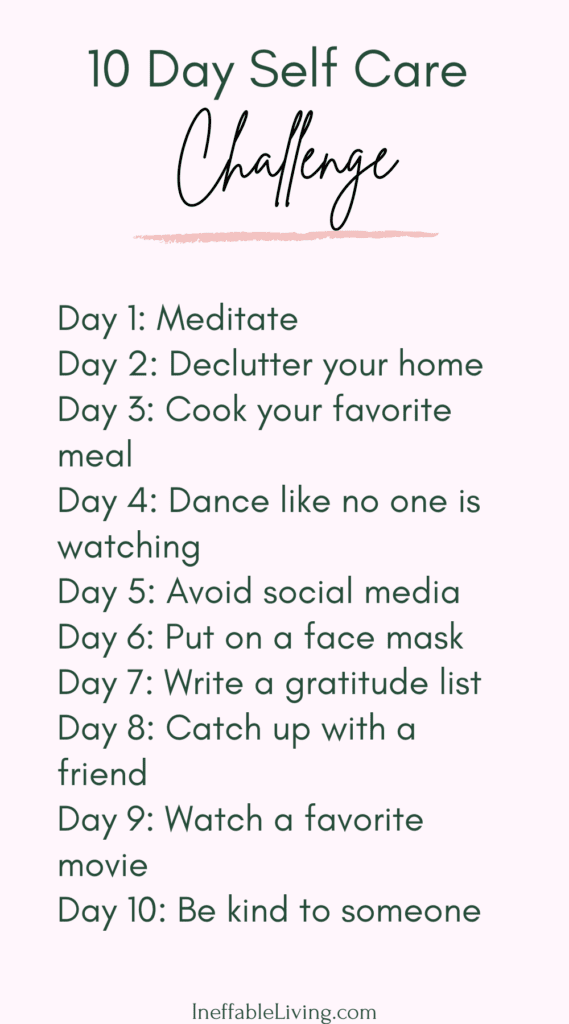 Looking for effective, affordable online therapy that can help you?
Online-Therapy.com is an online-therapy service that offers weekly live therapy sessions (chat, phone, and/or video sessions) with your personal licensed and certified therapist along with other resources based on cognitive behavioral therapy (CBT) – one of the most commonly used psychotherapeutic approaches for treating mental health problems. (Starting from $31,96/wk)
Related Deals: Get 20% Off Online-Therapy.com
Like This Post? Please Consider Sharing It On Facebook, Twitter, and Pinterest!
References
Portions of this article were adapted from the books:
Attachment Theory Workbook ©, April 19, 2020, by Emily Attached. All rights reserved.
Self‑Love Workbook for Women ©, September 29, 2020, by Megan Logan. All rights reserved.